Lamar Odom's sad spiral gets worse
Whatever he's going through, here's hoping that Lamar Odom -- one of the NBA's most gentle, likable players -- makes it out.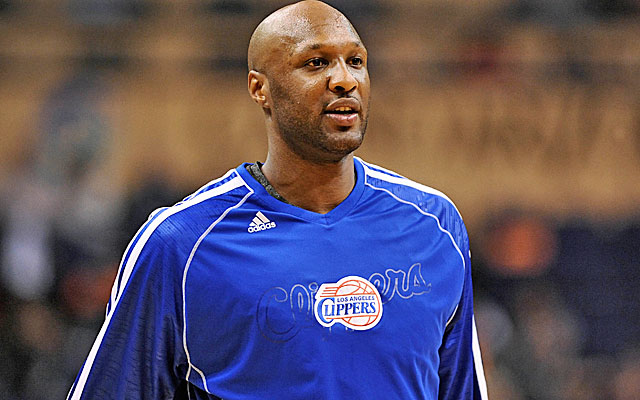 There is way too much we don't know about Lamar Odom and whatever demons he is battling at the moment. But after his arrest on suspicion of DUI in the wee hours on a California freeway on Friday, we know that whatever is going on with him is beyond sad.
The details are unsettling enough on their own. Odom was pulled over around 3:25 a.m. after allegedly weaving in and out of lanes on the California 101 freeway in the San Fernando Valley. Odom, 33, was slow to pull over, and when he did, he displayed "objective signs or symptoms of intoxication and was unable to perform field sobriety tests as explained," Officer Ming Hsu told CBS Radio in Los Angeles.
Once booked into the Van Nuys, Calif., jail at 5:01 a.m., Odom refused chemical tests, police said. 
Add this to reports of marital troubles with reality star Khloe Kardashian (which are none of our concern), reports of an attempted intervention for substance abuse (which may be), plus two years of incomprehensibly poor performance on the court, and you have the outline of a very troubling decline for one of the NBA's most gentle, likable players.
"Everyone that knows him really likes him," said a person involved in player representation and management. "Never hear a bad thing."
I second that. Lamar Odom is one of the most delightful, empathetic athletes I've encountered -- not only in my coverage of the NBA, but of every other sport, too. As for whatever vortex he has been sucked into -- depression? substance abuse? the Kardashian curse? -- we just don't know enough. 
But whatever this spiral is, we should be rooting for him to pull out of it.
Even during the six weeks or so of free agency that unfolded prior to Odom's public life beginning to unravel, not a single NBA team expressed serious interest in signing the 14-year veteran after back-to-back seasons that were by far the worst of his career. After seven years with the Lakers as one of the league's best bench players, Odom's production didn't just tail off; it crashed and burned. A 13.3-point scorer and 46 percent shooter across nearly 1,000 NBA games since 1999, Odom averaged only 6.6 points in a lost season with the Mavericks in 2011-12 and only 4.0 points in 82 games with the Clippers last season.
Over 2,643 minutes spanning 132 regular season games the past two seasons, Odom shot only 38 percent from the field and 23 percent from 3-point range. Sadly, his lack of job prospects is about more than numbers now. 
By itself, Odom's arrest on suspicion of DUI would not be enough to trigger a probable-cause test under the NBA's anti-drug program, league sources said. The league's medical director and the players' association would typically only be inclined to petition for such testing beyond the six random tests players already face if A) Odom were already in the league's after-care program, or B) if a substance beyond alcohol were involved in his arrest.
It is not known if Odom -- who was suspended in 2001 for violating the league's anti-drug policy twice in eight months -- is in the NBA's after-care program. What we do know is that as long as Odom is a free agent and not employed by an NBA team, he cannot be subjected to any league drug tests.
That's either a blessing or a curse for Odom. I fear it's the latter, because clearly what he needs now more than anything is help.
When Odom's agent, Jeff Schwartz, issued a statement earlier this week refuting reports that his client was missing, he said, "Playing in the NBA is still very much part of Lamar's plans." Whether Odom is able to resume his basketball career should be the least of our concerns. We need to root for him to resume his life, first.
The last extensive interview with Odom that I participated in happened during training camp last season at the Clippers' practice facility. I've known Odom for a while, and given that he was born and raised in Queens, N.Y., and I live there, we shared a bond -- as much of a bond as a guy doing his job could have with a guy doing mine. It's one of the myths of my occupation, that you have all this inside knowledge about people and really get to know them. Trust me; you don't.
But I tried. I'd chronicled Odom's sometimes charmed, sometimes tragic basketball life. I'd written about his curious addiction to candy, about the tributes he's always written on his game shoes: the name "CATHY" on each toe, for his mother who died of colon cancer in 1992, when Odom was 12; the words "Grandma" and "Jayden," in honor of the woman who raised him and his late son, a victim of sudden infant death syndrome. Jayden was 6 1/2 months old when he succumbed in 2006, two years to the day after Odom lost his grandmother.
I'd written about the numbers "114-18" on the tongue of each shoe; his childhood address on 131st Street in Jamaica, N.Y.
In the cutthroat world of the NBA, Odom has ever really asked much of the game, but really needs something from it now. But as I flipped through the names and numbers on my phone Friday, looking for a former teammate or acquaintance or coach to discuss his troubles, I came up empty.
"No thanks," one former player said.
"I don't want to touch that situation right now," added a former teammate.
So I go back to the last words I have on my digital recorder from Lamar Odom, on Oct. 4, 2012.
Odom was typically subdued but generally happy and thankful for the second chance he was getting with the Clippers after a miserable season in Dallas. He spoke of being "in a good place," and said, "I'm happy. My family's happy."
Toward the end of a five-minute interview on the Clippers' practice court, I asked Odom if, after all he'd been through, he ever wondered why difficult times always seemed to find him.
"Jesus went through a lot," he said. "This is easy for me, you know what I'm saying? Basketball?"
"He didn't have your handle," I said.
Odom appreciated the joke, and didn't miss a beat.
"No, he didn't," he said with a smile. "No, he had his hands around the world. But we all go through a lot. We're all going to go through it one day."
Lamar Odom is going through it now. Whatever it is, here's hoping that one of sports' gentle, tortured souls makes it out.
We've got all the scores, highlights and news for Thursday night

The Sixers big man got his first All-Star selection -- and maybe some revenge -- on Thursd...

It appears some players are not entirely taking the All-Star voting process seriously
There were some weird discrepancies between the fan, media and player votes

LeBron and Steph will be the captains for the 2018 NBA All-Star Game

Arron Afflalo was involved in an altercation with Timberwolves big man Nemanja Bjelica on...