LaMarcus Aldridge open to long-term deal with Trail Blazers
The Blazers have been impressive with their resurgence this season, which gives LaMarcus Aldridge more reason to want to stick around.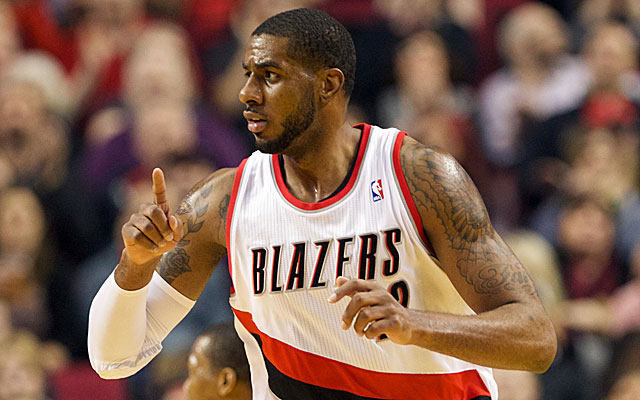 NEW YORK -- In a city where the concept of NBA free-agent doomsday is alive and well in the form of Carmelo Anthony, LaMarcus Aldridge could have walked up and down Lexington Avenue all day before someone recognized him or guessed his contract status.
Back in Portland, the tale of Aldridge's day-to-day happiness is big news. Here, in a quaint gym on the campus of Baruch College, it was the last thing on his mind -- or anyone else's.
But the reality is, Aldridge now openly discussing his desire to entertain a contract extension with the Trail Blazers should be big news. That's because getting Aldridge to a place where he is surrounded by winning talent, with an organization that is well positioned to sustain its surprising success, was a monumental achievement.
"As a player I feel like I have a good mind-set about this, just making sure that I'm not taken for granted and making sure that we're in a good place," Aldridge told CBSSports.com on Tuesday after the Blazers practiced in Manhattan to prepare for Wednesday night's game against the Knicks at Madison Square Garden.
The Garden crowd hasn't been treated to much this season except overpriced tickets and an underperforming team. On Wednesday night, it will be treated to one of the true, organic NBA success stories. After two straight years out of the playoffs and so much bad luck with Greg Oden and Brandon Roy, the Blazers are back. They've faded in January after an impossibly hot start, but GM Neil Olshey steadying what had been a sinking ship to the point where Aldridge now wants to stick around is nothing short of remarkable.
"Winning and happiness and making sure my worth is valued," Aldridge said, when asked what he will prioritize when it comes time to decide his future. "It's always nice to be noticed for doing good things."
It was only a few months ago when word was spreading on the NBA grapevine that Aldridge had seen enough in Portland and wanted out. And truly, who could've blamed him? The Blazers' window certainly appeared to have slammed shut, their decline all but assured.
But Olshey has done in Portland for Aldridge what he did for Chris Paul in Los Angeles: He made it a place where a star wants to stay. From the drafting of Damian Lillard to the hiring of Terry Stotts to the revamping of the bench this past summer, the Blazers are on a sustainable path. They've acquired talent and cap flexibility without squandering assets. They have front-office stability, too, after years of unrest.
Last month, Aldridge said publicly that he believes the team will be capable of winning a championship "in the next couple of years," and went so far as to say he'd like to discuss a contract extension this summer if the team would like to do the same. Forget for a moment that such an extension is unlikely under the NBA's current system, since Aldridge, 28, can only extend for two years beyond the season he'll have left on his contract after this one. Never mind that no All-Star in his right mind would agree to a two-year extension that would make him a free agent at 32 when he can simply wait out his current deal and become a free agent in 2015 at age 30 -- and then sign a five-year, max deal.
"I haven't gotten that far into it because I want to wait until this summer," Aldridge said. "But at that point, we'll sit down and talk about it. ... If we're all on the same page, then I'm looking forward to it."
The economic options are for Aldridge and his agent, Arn Tellem, to discuss. What shouldn't be overlooked is the fact that Aldridge is open to such a discussion in the first place. Olshey's plan and the Blazers' (34-14) renaissance have made him a believer.
"We got off to a really hot start, which is good because now we have that cushion," Aldridge said. "Every team is going through that. This is the time of the year when the grind kind of catches up to you, so we've done a great job of putting ourselves in a really good position."
After running out to a league-best 22-4 start in mid-December, the Blazers currently find themselves in their familiar mid-season swoon. They've lost five of eight, including a 10-point loss to the improving Wizards in Washington on Monday night, and are only 10-9 since beating the Clippers in an overtime thriller on Dec. 26.
When the Blazers are rolling, offensive firepower doesn't get any better -- nor does offensive coaching when it comes to Stotts. Portland is second to Miami in offensive efficiency (109.2 points per 100 possessions) and third behind San Antonio and Golden State in 3-point percentage (.382).
The Blazers' defensive liabilities, however, don't bode well in the ultra-competitive West. Portland is 22nd in defensive efficiency (105.4), sandwiched between the two underachieving New York teams.
"We've had games where we haven't shot the ball well, when our three-ball hasn't been going, but we played defense well enough to win the game," Aldridge said. "We've proven to ourselves that we can do it, but we have to do it more frequently. We all know that we can win without making 10 threes, but I think at times players let their offense affect their defense. The key for this team is learning how to not have great offensive nights but still having great defensive nights."
That part is a work in progress. During their current slide, they've shot 28 percent from 3-point range in five losses and 31 percent in their three victories – numbers that could prove or disprove Aldridge's point, depending on how you look at them.
What's beyond dispute is Aldridge's dominance as he's elevated his game to the point where he's finally being recognized as the best power forward in the league. Though he'll make his third All-Star appearance later this month in New Orleans, this is the one Aldridge said he feels the best about.
"I'm just healthy," he said. "Two summers ago, I had my hip scope done and I had to rehab from that. So last season I was thankful for being an All-Star, but I was still coming off that injury. This summer I was healthy. I had more time to work out, I got my conditioning up and I've just felt better."
In consultation with his Dallas-based nutritionist, Jill Lane, Aldridge has cut down on carbs and piled more vegetables and proteins on his plate. He carries with him a list of foods to eat and foods to avoid, to "keep my inflammation down," he said.
"I feel like the biggest thing with players now is nutrition," Aldridge said.
Well, that plus winning and happiness. LaMarcus Aldridge has all three, and it bodes well for the Blazers' rebirth continuing with him right in the middle of it.
The NBA broke its silence with a statement related to the Lakers-Paul George tampering cha...

The Clippers big man thinks LeBron will reunite with the banana boat crew at some point

Have the Clippers reportedly found their next GM?
The NBA stayed to the point in their response to the Greek basketball federation

The Pacers believe the Lakers tampered with Paul George before they traded him

Among the questionable decisions by Jackson was signing Noah to a long-term, lucrative dea...