LaMarcus Aldridge says he's happy with the Trail Blazers
LaMarcus Aldridge has had a lot of speculation circle around him about his future in Portland. But he says he's happy, right now.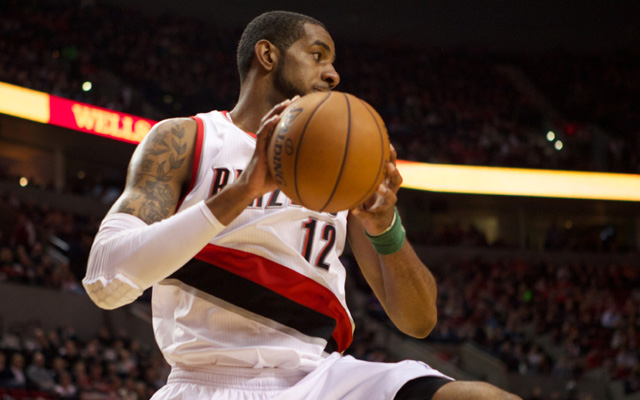 What does LaMarcus Aldridge want? It's been hard to tell. 
But for now -- emphasis on now -- he's happy in Portland.
"I'm happy here right now," Aldridge told USA Today. "I feel like we have a team that can win, that can make noise, and I feel like if we buy in then anything is possible. So I'm happy, and it's still my team and I'm playing well.
"I feel like the team has jelled around me. I feel like coach (Terry Stotts) has trusted me more this year to where I'm getting different opportunities that I didn't get last year, so I think everything is going great right now."
Right now. Right now. RIGHT NOW. 
That's really what stands out from Aldridge's comments, but then again, that's just the nature of professional sports. Because in a week, or a month, or a year, things could change. The Trail Blazers could blow up the roster and Aldridge may want to play for a contender. You never know. 
Aldridge has two seasons and $30 million left on his current deal and there have been plenty of rumblings of him being a trade target or even wanting out on his own. General manager Neil Olshey has stressed the team isn't shopping their power forward, but the speculation hasn't cooled. 
The Blazers haven't been playing at a very high level during Aldridge's tenure in Portland, having a few seasons of playoff basketball, but a lot of their time has been spent in the lottery. And for an All-Star caliber player, that wears.
But for right now, Aldridge is happy. 
Philly and Boston are matching up again after the Sixers' second-half collapse in London

Kris Dunn somehow took a chunk of the Bulls court out with his teeth, but didn't lose any in...

The fallout from the Rockets-Clippers tussle continues; no Clippers were disciplined
DH12 is picked for free throws after a teammate gets ejected. He makes both, and lets Scott...

Bell was injured defending a Robin Lopez dunk and had to be taken off the floor in a wheel...

Trevor Ariza and Gerald Green are reportedly both suspended two games