Lance Stephenson doesn't get to Heat, but he's a problem for Pacers
The Miami Heat can now move on from the constant questions of Lance Stephenson as the Indiana Pacers decide what to do with him.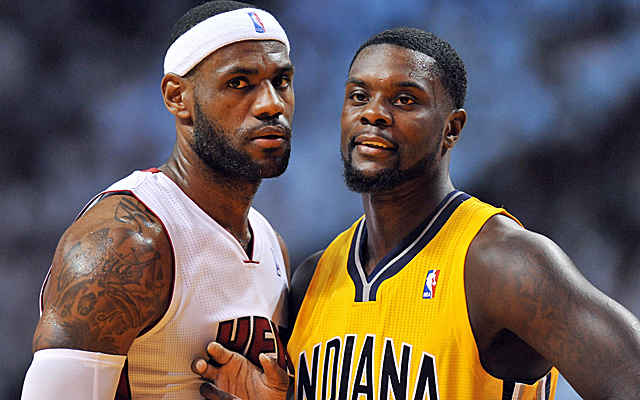 More postseason coverage: Playoff schedule, results | Latest news, notes
MIAMI -- The Miami Heat have had to deal with a lot of Lance Stephenson questions over the past two weeks. From the Indiana Pacers' shooting guard talking about wanting to make Dwyane Wade's knees swell up to him turning his attention to LeBron James and talking about signs of weakness to blowing in LeBron's ear to being a sideshow in Game 6, it's been a newsworthy week with Stephenson's name.
For the duration of this series, the Heat have attempted to keep perspective on what Stephenson was trying to do. The Pacers have been trying to keep a balance between letting their young guard become a disturbance and letting him be a catalyst for their team. More than anything he's been viewed as a distraction from the series at hand. After the best season of his career and a postseason that sullied his free agency value, the Pacers have a big decision to make regarding his future and their own.
"I don't know," Paul George answered when asked if he wanted to see Stephenson as a teammate next season. "That's for Larry [Bird], Kevin [Pritchard], for them to decide. It would be great. We came into this league together. It would be great for us to continue our journey together.
But he's played huge this whole season and in this postseason. So it's definitely put pressure on us to make decisions going forward with Lance."
Those decisions are how competitive their bidding will be for his services when he's an unrestricted free agent this summer. It's natural to think he lost himself quite a bit of money with his antics during the postseason. His insistence on being in the spotlight for all of the wrong reasons during the Eastern Conference finals showed a lack of maturity most hopeful executives were probably hoping to see less and less of as he gets set to hit free agency. 
After the 117-92 loss to the Heat in Game 6 to end their season, Stephenson didn't believe he was a distraction at all.
"No," Stephenson answered when asked if the storylines were distracting." Just very competitive. Just everybody showing they're willing to play hard. We were just competing every game and believing in each other."
Heat forward Shane Battier wouldn't let the media classify Stephenson as motivation following the closeout of the Heat's fourth straight Eastern Conference championship. To give him that distinction would be to say he kept them from concentrating on their plan and their identity that they try to achieve during the playoffs.
"It didn't motivate us," Battier explained. "It's an annoyance. It's nice we don't have to deal with that anymore. The two teams we play [next], they're playing for the Western Conference finals, they're about basketball. That's the good news. It's about basketball. It's not about all the chicanery that went on."
During his postgame press conference, Heat coach Erik Spoelstra wouldn't let Stephenson have one more detracting moment from what his team accomplished and what their focus in this series was. Despite the flagrant foul Stephenson committed on Norris Cole or putting his hand on the face of LeBron to potentially get under the skin of the four-time MVP, the Heat don't want to allow themselves to give credence to his tactics.
"There's really -- to even point out, to make a comment about that, then you're just highlighting that guy," Spoelstra said. "So he had nothing to do with our series, our success in this series, how LeBron showed up tonight. We're playing for something much bigger than that guy."
"That guy" is someone the Pacers have embraced for the past four seasons. It's an energy and skill set they've tried hard to develop and harness while living with him running his mouth and turning the Eastern Conference finals less about basketball and more into a Jersey Shore-esque display of bravado. It's someone his teammates seem to want back because they believe he's a guy who helps them. 
"Who he is is who he is," David West said following the end of their season. "Who he's been has been good enough for us all year.
It didn't affect us [in this series]. I think it affected the media more than it did us."
Stephenson was certainly the story outside of basketball throughout much of this series. Thankfully for the Heat and even the Pacers to a large degree, he won't be much of a talking point during the rest of this postseason. We'll all have to wait until he hits free agency for him to be another potential distraction in our daily basketball lives.
The 76ers star doesn't see a bright future for Jon Snow

Valanciunas played professionally in Lithuania before joining the Toronto Raptors

SportsLine's advanced computer model simulated Tuesday's Cavaliers-Hawks game 10,000 times
Larry Hartstein is 14-6 on Sixers picks and 16-8 on Timberwolves picks and has a strong play...

The kid just about lost his mind after getting Durant's game-worn sneakers

The revamped Thunder lost on Monday night, dropping to 12-14 on the season