Lance Stephenson dominated for 3 quarters, but the Pacers need more
The Indiana Pacers dropped Game 2 when they went away from Lance Stephenson.
• 2 min read
More Game 2: Doyel: LeBron takes over| Wade carries Heat | George struggles
Lance Stephenson was brilliant through three quarters on Tuesday. Just like in Sunday's series-opening win against the Miami Heat, the Indiana Pacers shooting guard did damage by creating and exploiting opportunities. In the open floor and in halfcourt sets, he attacked relentlessly. Stephenson was by far the biggest reason Indiana had a lead going into the fourth quarter, but things changed in the final frame. Miami won 87-83 to tie the series, and the Pacers went away from what was working. 
Early in the game, there was the jumper off the dribble that got the Bankers Life Fieldhouse crowd roaring. Just before halftime, there was the improbable tip-in with 0.1 seconds remaining. The third, though, was Stephenson's showcase. He played the entire period, compiling 10 of his game-high 25 points, three of his six rebounds and two of his seven assists. This was Stephenson looking like the best player on the court, outplaying a future Hall of Famer, keeping the energy up and carrying his team.
Indiana head coach Frank Vogel described him as "spectacular" after the game. When a reporter asked if he had a problem with some of Stephenson's celebrating, he said he absolutely didn't. Stephenson himself said he was just doing whatever it took to win, trying to make something happen. 
"He was either making a big shot or finding somebody seemingly on every possession during that stretch in the third quarter," Vogel said. "He was great."
"He was really hurting us getting into the paint and just putting pressure on our entire defense," Heat head coach Erik Spoelstra said.
LeBron James told Norris Cole to guard Stephenson late in the game, the backup point guard said, and that coincided with the Pacers going away from their best weapon. The plan wasn't to leave Cole in the game for all of the fourth, but Spoelstra went with it. Stephenson said he still felt involved, but he only took three shots down the stretch and Indiana's offense got stagnant. Meanwhile, James and Dwyane Wade got whatever they wanted, scoring 22 points and stealing the victory.  
As the series shifts to South Beach, Indiana can either lament wasting such a performance or try to build on it and give him some help. With Stephenson as the only big scorer, the Pacers were in the game in the last few minutes. Repeatedly saying that this will be a long series, the loss certainly won't have any effect on his resolve.
"I definitely got confidence," Stephenson said. "I just believe. And I believe in my teammates, and we go through battles like this. When I got them behind my back, I feel even more confident. I just know I got warriors behind me and we're going to just take it to 'em."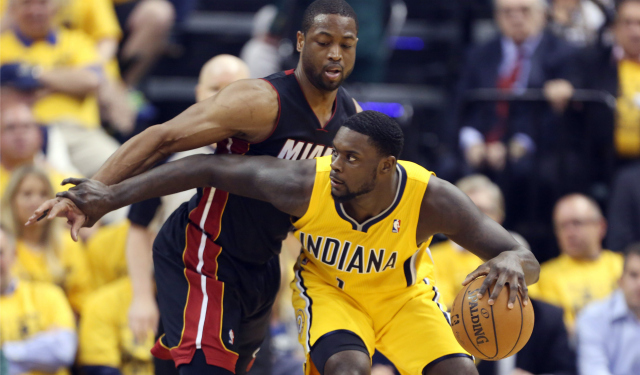 Wade is having a rough start to his first season playing in Cleveland

Greek Freak scores career-high 44 points and reaches scary level to finish the game

It was an ugly finish as the Warriors fell to 1-2 on the season -- both Curry and Kevin Durant...
Mirotic was hospitalized with facial fractures after an altercation with Portis during pra...

Irving had some choice words for a fan who heckled him in Philadelphia

Several teams were reportedly interested in Nelson after he was waived by the Nuggets