Lance Stephenson on LeBron James trash talking: 'sign of weakness'
Lance Stephenson said LeBron James talking trash in Game 3 of the Eastern Conference finals was a 'sign of weakness.'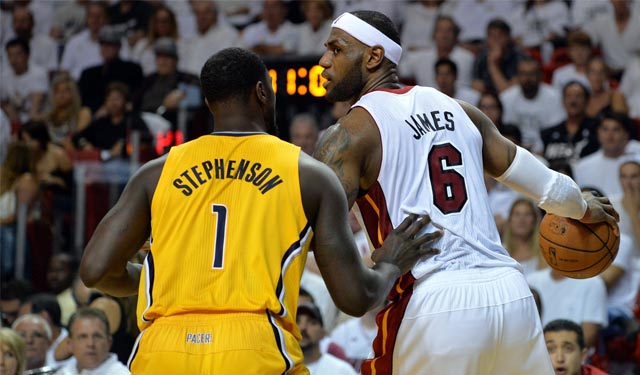 More postseason coverage: Playoff schedule, results | Latest news, notes
During Game 3 of the Eastern Conference finals between the Miami Heat and the Indiana Pacers, Lance Stephenson drew an offensive foul on LeBron James. Something in that moment seemed to irk LeBron and he spent the rest of the game trying to make life hell for Stephenson. James immediately herded Stephenson up the floor and he talked to him, and followed that up with aggressive defense against the Pacers' guard whenever they were matched up. He forced some bad shots and a turnover or two in the process.
At media availability on Sunday, Stephenson told reporters the trash talking James did during Game 3 was a "sign of weakness." Apparently, James talking trash like that was out of character and it seems like Stephenson believes he may have gotten into the four-time MVP's head. From the Sun-Sentinel: 
"To me, I think it's a sign of weakness because he never used to say nothing to me," Stephenson said. "I always used to be the one who used to be the one that say, `I'm going to get under you. I'm going to do something to get you mad' Now he's trying to do it to me. I feel like it's a weakness."'

Stephenson and James exchanged words early in the first quarter. With the Pacers leading 23-14, Stephenson drew a charge on James. After teammates helped Stephenson up, James closely followed him down the court. The players jawed the entire way.

"I'm doing something right and I'm getting under his skin," Stephenson said. "I definitely have to keep stepping up to the plate and be aggressive when he does that."
The Heat picked up the defensive intensity and LeBron definitely seemed more engaged in the game after their little trash talking session in the second quarter. Indiana pushed the lead to 15 points at one time, but the Heat came charging back and eventually took the game with a huge fourth quarter effort from their role players. At the time of the trash talking, Stephenson tried to make it obvious he wasn't engaging. He raised his arms and tried to move away from LeBron as he got an earful from the star.
Perhaps it was a sign of weakness in some respect, but James and the Heat turned it into the motivation to turn what was an ugly, lethargic performance into a spectacular win. We'll see if this carries over to Game 4 on Monday when these two teams meet again.
Greek Freak scores career-high 44 points and reaches scary level to finish the game

It was an ugly finish as the Warriors fell to 1-2 on the season -- both Curry and Kevin Durant...

Mirotic was hospitalized with facial fractures after an altercation with Portis during pra...
Irving had some choice words for a fan who heckled him in Philadelphia

Several teams were reportedly interested in Nelson after he was waived by the Nuggets

Cousins got into a heated exchange with a fan during the Pelicans' season opener