Larry Bird, Adam Silver release statements about Paul George injury
The Pacers and the NBA have commented on Paul George's horrible injury.
• 1 min read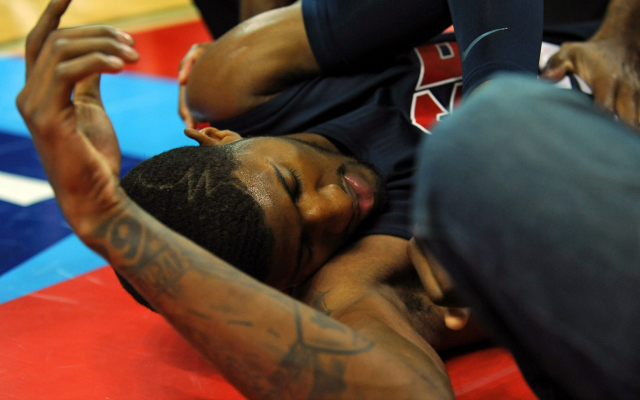 Offseason: Free Agency | Latest from Ken Berger | Rumors
Indiana Pacers president Larry Bird released the following statement about forward Paul George's devastating injury on Saturday, via the team's official website:
"Our first thoughts are with Paul and his family. It is way too early to speculate on his return as the No. 1 priority for everyone will be his recovery. Our initial discussions with our doctors and the doctors in Las Vegas have us very optimistic. We are hopeful at some point next week Paul will return to Indianapolis to continue his recovery.

"There is no question about the impact on our team but our goal is to be as strong-willed and determined as Paul will be in coming back. Our franchise has had setbacks in its history but has demonstrated the abilities to recover. Paul will provide the example of that off the court and it is up to the rest of us to provide that example on the court. Any discussion regarding the future of our team would be inappropriate at this time. Our focus is solely on Paul and doing whatever we can to help.

"We still support USA Basketball and believe in the NBA's goals of exposing our game, our teams and players worldwide. This is an extremely unfortunate injury that occurred on a highly-visible stage, but could also have occurred anytime, anywhere.

"Finally, the Pacers would like to thank our fans and the NBA community for their outreach of support in the brief amount of time since the injury occurred. It has been overwhelming and it is what makes Indiana and the NBA special."
There's not much more you could ask for Bird to say on the matter, and it's important to note that he acknowledged an injury like this could have occurred anywhere. This is true, and it's worth saying because we're about to start hearing lots of debate on the risks and merits of professionals participating in international competition. 
NBA commissioner Adam Silver also put out a brief statement about George late Friday night:
"It was difficult to watch the injury that Paul George sustained tonight while representing his country. The thoughts and prayers of all of us at the NBA are with Paul and his family."
Giannis skipped EuroBasket last summer, and has missed four games this season with knee so...

Some of the best and worst from the league as we head into the home stretch of the season

Cuban acknowledged that tanking is 'brutal' and that he will no longer do that after this...
Cho has been the GM in Charlotte since 2011

Fergie: 'I'm a risk taker artistically, but clearly this rendition didn't strike the intended...

Victor Oladipo had a successful R&B album over the offseason and Jamie Foxx is a fan