Larry Bird hopes to bring Lance Stephenson back to Pacers
Despite disappointment in his behavior, the Hall of Famer hopes the mercurial guard can be a part of the Eastern Conference contender's future.
More Offseason Analysis: Coaching changes, news | Free Agency | Draft
Indiana Pacers president Larry Bird told reporters Monday that he hopes Lance Stephenson will be back with the team as a free agent, despite his disappointment in the guard's hijinks during the Eastern Conference Finals. From the AP:
"I think his ceiling is what he wants it to be," said Bird, the Pacers' president of basketball operations. "I always want him back. You just don't let talent like that walk away if you can help it."

"I was very disappointed that in Game 5, Paul George put on a spectacular display, hit every big shot and after the game, everyone was talking about all the nonsense," Bird said. "That's not what we're about, and it's not professional."

"Clearly, he's a free agent, and I'm certainly hoping that he's back," Vogel said, later acknowledging he played the role of team psychologist more this year than any previous year.

Indiana is expected to start the offseason $8 million to $12 million under next season's projected luxury tax threshold and already has its four other starters under contract. Bird has made it clear the Pacers will not pay the luxury tax.

All of which leads to one question: What are the Pacers willing to pay to keep Stephenson?

"We've talked about it briefly, but I haven't sat down with the owner (Herb Simon) yet," Bird said. "There's going to be a price and we're not going to go over that."
That's the trick. The Pacers aren't going to break the bank to keep Stephenson. The question is what his value is now, after everything. Stephenson had a phenomenal season and had some great postseason games. He also showed a startling lack of maturity with a litany of incidents, including blowing in LeBron James' ear and repeated entanglements with opponents. 
There's some speculation that his behavior could cost him a sizable contract offer, but there's also the possibility that a GM with cap space simply overspends to land a player of Stephenson's talent, risking the attitude issues. The likelihood is somewhere in between, where Stephenson receives a significant offer that is too high for the Pacers to top and keep him, but not so high as to break all limits of reason. 
Stephenson could have had a massive payday, if he hadn't let his hijinks get in the way. And any team that signs him has to consider what he pulled on a structured, disciplined contending team and how that could change if their team doesn't have that structure.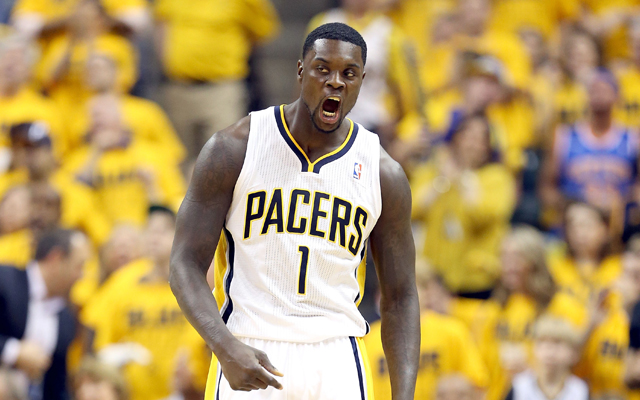 SportsLine's Mike McClure, a DFS pro with more than $1M in winnings, gives optimal lineup...

Will the Warriors flip a switch now that they're past the All-Star break?

The new-look Cavaliers will test if their recent success is no fluke
Intel has brought VR to the NBA, and it will help fans learn more about the game than they...

Kenny White used to set the line for Vegas' biggest casinos and is a perfect 5-0 on Cavs g...

Can the Thunder lock up a top-four seed? Will the Pelicans and Pistons be playoff -- or lottery...