Larry Bird would like Roy Hibbert to get some Hall of Fame help
Larry Bird wants Indiana Pacers center Roy Hibbert to get a Hall of Fame player to help him with his game this offseason.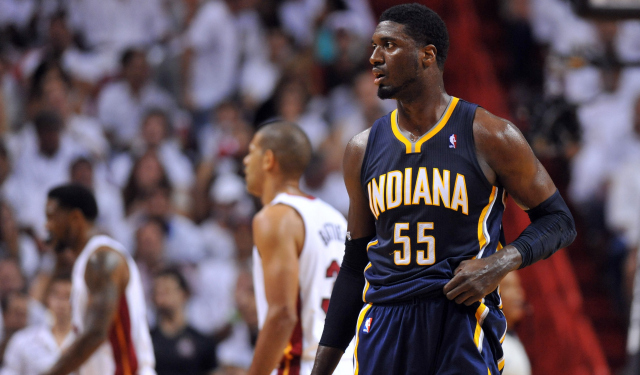 More postseason coverage: Playoff schedule, results | Latest news, notes
Indiana Pacers' center Roy Hibbert had a monster Eastern Conference finals performance in 2013 that seemed to propel him into a great start to the season for 2013-14. But once the All-Star break hit, the Pacers signed Andrew Bynum, and the team seemed to lose its identity as Hibbert struggled mightily for much of the end of the regular season and big moments in the playoffs. It didn't prevent Hibbert and his team from getting to the Eastern Conference finals for a second straight season, but it may have kept them from getting to their first NBA Finals since 2000.
Pacers president Larry Bird would like to avoid lulls like that from Hibbert moving forward, and thinks hiring some Hall of Fame help for Hibbert this summer is the next move. At a press conference following the elimination of the Pacers, Bird stated he would "encourage" Hibbert to get with one of the all-time greats, something he's never asked the Pacers to set up. From ESPN.com:
Bird, at his season wrap-up news conference Monday, said the Pacers brought in Hall of Famer Bill Walton to work with Hibbert one time this season. He'd like Hibbert to work with somebody like Walton or Kareem Abdul-Jabbar this offseason, as well.

"Roy's never asked us to go bring someone in," Bird, the Pacers' president of basketball operations, said. "I always say big guys are different. I would encourage Roy to try to get with one of the greats. Kareem Abdul-Jabbar is one of the best teachers. Bill Walton is great. They know how to play the position as well as anyone ever has. I would encourage that."
Hibbert has worked out with Tim Duncan of the San Antonio Spurs in the past, but in terms of getting a guy who could devote all of his training time to helping Hibbert, that apparently hasn't happened. Considering Hibbert has the Georgetown Hoyas connection with a stable of big men -- Patrick Ewing, Dikembe Mutombo, Alonzo Mourning -- to potentially work with, there are plenty of options.
His biggest problem on the court is leverage and balance. Hibbert's 7-foot-2 frame and incredibly long legs mean his ability to get low in a post-up position and hold that position is nearly impossible. Mutombo and Abdul-Jabbar had similar height/leverage problems at times in their careers, but didn't let it throw them into offensive spirals like we saw with Hibbert this season.
With the Pacers needing some extra passing out of the post because of a lack of playmakers, working with Abdul-Jabbar or Walton would be ideal. Both centers were very good passers and would be able to teach Hibbert how to utilize a balance between passing and attacking from the low or mid blocks.
The Cavaliers are reportedly very close to acquiring the 10-year veteran point guard

Kobe Bryant is now an Oscar nominee. Here's how you can watch his short

Players such as Metta World Peace, Baron Davis and Nate Robinson have signed on
The guard is doing everything he can to make a name for himself (and making Cavs fans sweat...

Bryant is getting recognition for his off-the-court exploits in retirement

Our advanced computer model simulated Tuesday's Spurs vs. Cavs game 10,000 times