Larry Drew says he was 'blindsided' by Bucks firing
Ex-Bucks head coach Larry Drew spoke publicly and at length for the first time about his dismissal.
• 2 min read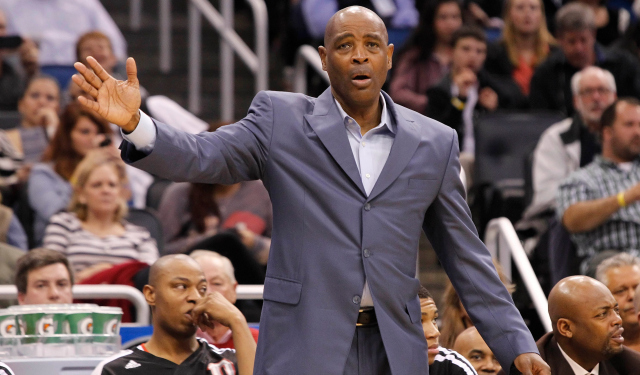 The Milwaukee Bucks didn't treat Larry Drew right. After a 15-67 season, new owners Marc Lasry and Wesley Edens negotiated to hire Jason Kidd away from the Brooklyn Nets before dismissing Drew as head coach. Now an assistant coach for the Cleveland Cavaliers under David Blatt, Drew told the Milwaukee Journal Sentinel's Charles F. Gardner that he was "blindsided" and it was "definitely mystifying."
From their (the owners') standpoint, there's no set time for these type of things," Drew said in an interview with the Journal Sentinel.

"It caught me in a position when I least expected it. But I know how these things work. I don't have any hard feelings, any grudges against anybody.

"Marc (Lasry) called me and I just wished him luck. I've got to keep moving forward."

Maybe the most embarrassing snub Drew suffered was having to sit at the introductory news conference with No. 2 overall pick Jabari Parker at the Milwaukee Public Market on the day after the draft, even though the owners already had talked to Kidd by that time.

"The whole Jabari thing, putting me in that position, I don't think it was very professional," Drew said. "I wish it wouldn't have happened that way, but it did.

"If I had been a new coach, I might have reacted differently (to the firing). But because I've been in this so long and I've had friends who have had these type things happen to them, I was OK.

"This is the life we choose and sometimes you have to expect the unexpected."
Considering how it happened, Drew is being very kind here. It wasn't just "not very professional," it was shameful for the organization. If the owners wanted Kidd, fine, but going behind Drew's back was simply disrespectful. The even crazier part was that general manager John Hammond wasn't even a part of that process, though he at least kept his job.
The positive in all this: Drew ended up with the Cavs, and he'll be working with the best player on the planet. After enduring loss after loss last year en route to the worst record in the league, he's now preparing to try to make a deep playoff run on a legitimate championship contender. Drew told the Journal Sentinel that he considered sitting out for a season, but "these opportunities don't come by too often."
The lesson here is that timing is everything. Drew understands that. Milwaukee did not.
Irving has requested a trade away from the Cavaliers

The Lakers made a strong push for Rose, but he would have been a backup in Los Angeles

The small forward spent last season with the Sacramento Kings
Knight still has three years left on his five-year, $70 million contract

The Golden State forward is accused of assault, battery and making misleading statements

The Nets get their shooter a year later, and the Blazers reportedly will waive Nicholson