Larry Sanders puts health first, reportedly accepting buyout
Larry Sanders' buyout with the Bucks is reportedly done, and he doesn't owe anybody anything.
• 2 min read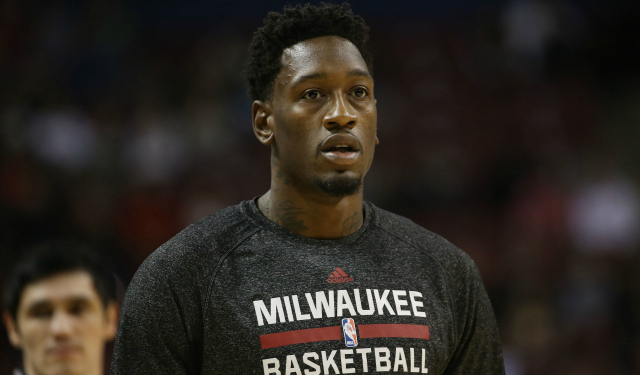 Larry Sanders' buyout with the Milwaukee Bucks has been done for days, according to RealGM's Shams Charania, and he'll only receive $13 million of the $40 million he had left on his contract. It doesn't look like he'll be signing anywhere else anytime soon:
Battling a number of issues, Sanders is unlikely to seek a new team this year. Once bought out he would be an unrestricted free agent

— Steve Kyler (@stevekylerNBA) February 18, 2015
Regarding Larry Sanders' future, he may play again down the road, but he needs to resolve personal issues first. He's having a tough time.

— Alex Kennedy (@AlexKennedyNBA) February 18, 2015
Sanders recently served a suspension for violating the NBA's anti-drug program. Before that, he was away from the team for personal reasons. He hasn't been on the court since Dec. 23, and a rumor surfaced afterward that he told the Bucks he didn't want to play basketball anymore. Sanders briefly rejoined the team in January and addressed that.
"People, I figured, with my absence, something was going to come out sooner or later," Sanders told reporters then. "That's not true. But what is true, I would say, [is] I'm in the process of working things out now internally to do what's best for my psyche and my physical health going forward. There's a lot of evaluating going on. There's a lot of inside talk just to put myself in the best place for my health right now."
Sanders added that he was "trying to get to the root of a lot of issues and get them corrected going forward," and that "without these things being corrected, I don't think basketball would be something I could even do."
He hasn't spoken on the record since then, so that is all we have to go on. Which is perfectly fine. He doesn't have to clarify things if he doesn't want to -- now that he has resolved his situation with the Bucks, Sanders doesn't owe anybody anything. 
If you want to believe this situation is as simple as he doesn't want to play basketball or he doesn't love the game, he's not focused on changing your mind right now. It sounds like he's working on himself, and getting himself right is much more important than dealing with the public perception.
"Unless you know me, you don't know me," Sanders said in November. "So, [I'm] just not attaching myself to other people's thoughts about me. Sometimes, I'm going to make my mistakes. Perfection is not even attainable. But, you can always be better. You can get better and learn as long as you're alive. That's the main lesson in life, at least for me. Just to try to get better every day."
Now, it appears Sanders has learned that being on a basketball team is not best for him when he's trying to sort out his health. He just gave up a reported $27 million, so he's very serious about it. Sure, he's still a talented center whose skills could help any number of teams right now, but he's also a human being. Let's not forget that.
The investigation detailed a corrosive workplace environment

Also, when -- or rather, will -- the Warriors flip the switch?

The versatile forward has one glaring weakness, but Toronto can see it turning into a stre...
The investigation detailed a hostile workplace environment

Cousins suffered a torn Achilles tendon on Jan. 26, and will miss the rest of the season

Ingram has become one of the team's go-to players with Lonzo Ball sidelined with an injury