Larry Sanders unhappy with reduced role early in season
Bucks center doesn't understand why he's not getting second-half minutes.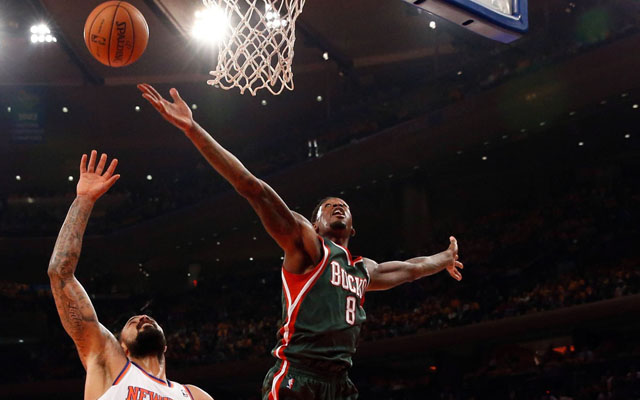 Bucks center had a breakout season last year and became the defensive darling of the league. He received votes for Defensive Player of the Year and Most Improved Player. He shined as a difference maker and became a fan favorite. 
Now the Bucks have a new coach (Larry Drew) and a new system to go along with it. And that has meant a drop in Sanders' time on the floor, something the man they call "LARRY SANDERS!" isn't happy with. From NBA.com:
"I feel like I'm capable of being in the game at the end and helping my team win, coming up with blocks and rebounds," Sanders told NBA.com before exiting the locker room swiftly. "I haven't been able to get my rhythm out there. I understand foul trouble situations, but tonight I wasn't in foul trouble.

"Last year I finished so many games. I feel like that's when I lock in the most. But I haven't been able to get in the game to finish. That carries over to the next game. When you sit the last three quarters of each game, I can't have no carryover. And it's hard for me. I'm still a young player. It's only my eighth year playing basketball."
via Sanders Frustrated By Short Minutes « Hang Time Blog with Sekou Smith | NBA.com.
NBA.com notes that just 15 of Sanders' 52 minutes have come in the second half of games. 
The problem is two fold. 1. The Bucks have been 28.3 points worse per 100 possessions with Sanders on the court this season, and 2. that number seems pretty accurate. Watching Sanders, he seems erratic and uncertain. Whether this is early season bugs that need to be worked out or the product of a change in defensive scheme, no way to tell yet. But it's a worrisome sign. 
Adding to all of this is the fact that Larry Drew is a "win now, win later, win as much as you possibly can" kind of coach. He's not going to play young talent just to develop it. That's why you see Zaza Pachulia getting minutes over John Henson and Sanders. Nate Wolters is getting time at point, but that's mostly attributable to Brandon Knight's injury, and Knight's time is mostly attributable to not having another option. When Luke Ridnour returns from a back injury, you'll likely see him getting those minutes. 
We'll see if Sanders can buckle down and deal with the adversity, or if Drew relents on such a hard edge. 
Wade opted in to his $24 million player option earlier this summer

Barkley spoke to the NFL Today crew about the response the president received in his home...

The restricted free agent has a deal in place that will keep him with the Bulls after a st...
James' support continues his trend of social activism on social media

The newly-acquired All-Star thinks the addition of Anthony boosts the Thunder in the NBA's...

The Knicks were asking for the house in discussions for Carmelo Anthony