Las Vegas: Miami Heat top Los Angeles Lakers as preseason 2013 title favorites
The Miami Heat topped the Los Angeles Lakers as the early 2013 title favorites, according to one Las Vegas oddsmaker.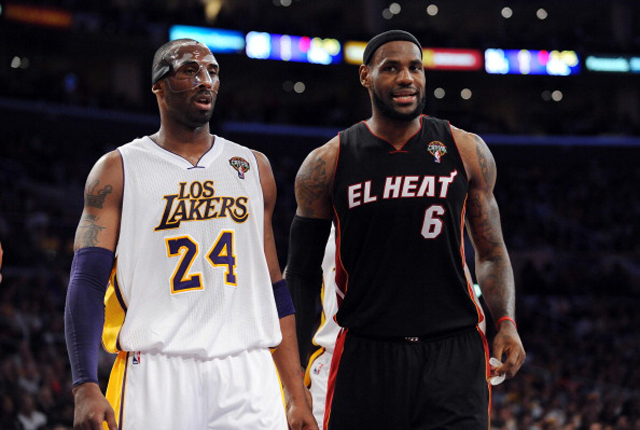 LeBron James's Heat topped Kobe Bryant's Lakers in a preseason list of 2013 title favorites.
(Getty Images)
Las Vegas sees the 2012-13 NBA season as a three-horse race, with the defending champion Miami Heat leading the pack out of the gate.
Oddsmaking service Bovada.LV released its 2012-13 preseason championship odds Tuesday. The Heat (11-5) topped the Los Angeles Lakers (5-2) as the early favorites, with the Western Conference champion Oklahoma City Thunder (9-2) checking in just behind. 
From there, it was a meaningful drop off to the next tier, which includes the Chicago Bulls (14-1), Boston Celtics (18-1), San Antonio Spurs (18-1) and the Los Angeles Clippers (25-1).
The odds seem to reflect a growing sentiment that the list of true title contenders is shorter than it's been in recent years after a summer that saw a number of super teams strengthen their positions. Prior to the 2011-12 season, five teams opened with 10-1 odds or better compared to three teams this season. Last year, nine teams had 22-1 or better odds compared to six teams this season.
The back of the pack is full of familiar names. The league's longest shots were all 2012 lottery teams: Cleveland Cavaliers (200-1), Detroit Pistons (200-1), Sacramento Kings (200-1), Toronto Raptors (200-1), Washington Wizards (200-1) and Charlotte Bobcats (500-1). All six of those teams opened at 200-1 or worse to start the 2011-12 season.
Here's the full list of 2013 championship odds.
Miami Heat 11-5
Los Angeles Lakers 5-2
Oklahoma City Thunder 9-2
Chicago Bulls 14-1
Boston Celtics 18-1
San Antonio Spurs 18-1
Los Angeles Clippers 25-1
Brooklyn Nets 30-1
Dallas Mavericks 33-1
Indiana Pacers 35-1
Memphis Grizzlies 35-1
New York Knicks 35-1
Philadelphia 76ers 50-1
Denver Nuggets 66-1
Houston Rockets 75-1
Atlanta Hawks 75-1
Minnesota Timberwolves 75-1
Portland Trail Blazers 100-1
Utah Jazz 100-1
Golden State Warriors 125-1
Milwaukee Bucks 125-1
New Orleans Hornets 150-1
Orlando Magic 150-1
Phoenix Suns 150-1
Cleveland Cavaliers 200-1
Detroit Pistons 200-1
Sacramento Kings 200-1
Toronto Raptors 200-1
Washington Wizards 200-1
Charlotte Bobcats 500-1
Milwaukee's star did not get cleared to play for his national team due to a painful knee i...

Ball, the second overall pick in the NBA Draft, is receiving even more hype

Rap mogul supports the vision the outspoken father has for his brand and sons
Deciding who to watch on League Pass can be difficult, but these rankings promise to help

Veteran forward signed a one-year deal with the Knicks in offseason

Knicks forward had his truck stolen out of his driveway