Last title run for Spurs? Don't bet on it
While their old guard is fading, don't underestimate the San Antonio Spurs' ability to sustain success into another era.
Tony Parker is right about one thing: The window finally is closing on the San Antonio Spurs as we have known them.
He's wrong, though, about this coming season being the "last crack at a championship" for a group that has been led by himself, Tim Duncan and Manu Ginobili.
People have been writing the Spurs off for years, and wouldn't Gregg Popovich & Co. just love it if we'd do it again?
I, for one, won't fall into that trap.
By locking up rising star Kawhi Leonard with a five-year, $94 million deal and landing marquee free agent LaMarcus Aldridge, the Spurs set themselves up to be carried beyond this coming season. Duncan, Parker and Ginobili are all on the books beyond 2016-17.
They're also taking a wise approach when it comes to dealing with the massive increase in the salary cap and luxury tax levels over the next two years.
With more money on the market next summer than top-tier free agents who will be worthy of it, the teams that have played their cards right are those that retained their own free agents or added new ones this summer and kept viable playoff rosters intact.
The Thunder, for example, will incur a significant luxury-tax bill this season by matching Portland's max offer sheet for restricted free agent Enes Kanter. But with a payroll that will be over the cap and Kevin Durant to pay next summer (using Bird rights), they'll be able to duck under the tax line because of the massive increase -- from $84.7 million to a projected $108 million in 2016-17.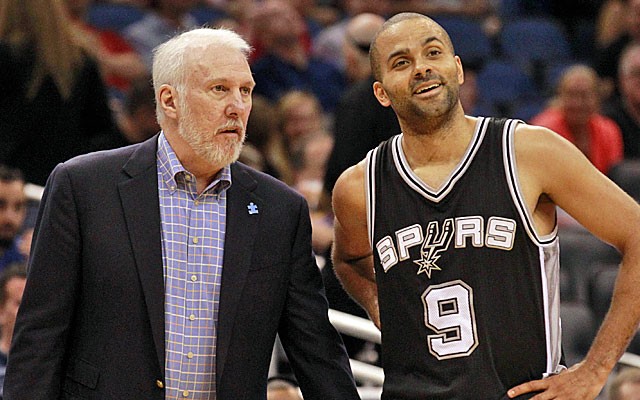 The key factor there was that Thunder GM Sam Presti knew that it would be preferable to retain Kanter and use the spike for tax relief next season, since even with the cap rising to a projected $89 million, he wouldn't have enough room to sign a comparable free agent. (Remember, you can go over the cap to re-sign your own free agents using Bird rights; you can only add someone else's free agent when you have room, or, as long as you're not more than $4 million above the tax line, via a sign-and-trade.)
Another example is Milwaukee, which originally had been planning to have major cap room in 2016. Once Bucks GM John Hammond digested the news about the cap rising dramatically in '16 due to the influx of the league's new TV deal, he changed course and essentially moved up the team's cap room to this summer. The Bucks acquired point guard Greivis Vasquez on draft night, added unrestricted free agent Greg Monroe and re-signed restricted free agent Khris Middleton. Despite good progress on the team's bid for a new arena, the Bucks aren't getting LeBron James or Durant next summer, so why horde cap space to chase ghosts?
The Spurs played the middle ground. They went out and got Aldridge, an All-Star power forward who bolsters their championship outlook for this coming season and who is capable of leading them down the road. They retained Danny Green on a reasonable four-year, $45 million deal, and brought back Duncan (two years, $10.4 million) and Ginobili (two years, $5.7 million) on big discounts (especially for Duncan, who is still among the league's best big men at 39).  
West was willing to take a massive pay cut for the chance to win a title in San Antonio, coming aboard on a one-year deal for the veteran's minimum of $1.4 million.
According to calculations by former Nets executive Bobby Marks, the Spurs will be the second-oldest team in the NBA next season at 29.3 average years, just a tick behind the Dallas Mavericks (29.4). But with no obligation to West beyond this season, and minimal obligations to Duncan and Ginobili, the Spurs will have flexibility to make roster upgrades next summer -- and the potential for significant room in 2017, when only Parker is left on the books from the old Big Three.
So with all due respect to Parker, he's only got this half-right. As so many teams struggle to manage short-term success with long-term sustainability, the Spurs, as usual, have found a way to handle both.
CBS Sports HQ Daily Newsletter
Get the best highlights and stories - yeah, just the good stuff handpicked by our team to start your day.
Please check the opt-in box to acknowledge that you would like to subscribe.
Thanks for signing up!
Keep an eye on your inbox for the latest sports news.
Sorry!
There was an error processing your subscription.
LaVar Ball might have a deal for you if BBB sneakers is what you've been wanting

Minnesota intends to play Butler in 'shorter segments' to start the 2018-19 campaign since...

Big things are expected from Harris, but he told Reid Forgrave his No. 1 objective is to 'help...
The Knicks and Hawks open up their season on Wednesday at MSG

After a hard year in Houston, Phoenix's new sharpshooter told CBS Sports he is excited to be...

Money, it's gotta be the shoes! A non-sneakerhead offers fearless rankings on all 33 Air J...