Lawyers say Nuggets' Andersen was extorted by female fan
Lawyers representing Chris "Birdman" Andersen claim that the Denver Nuggets center is the victim of an extortion attempt after his house was searched by Internet Crimes Against Children investigators.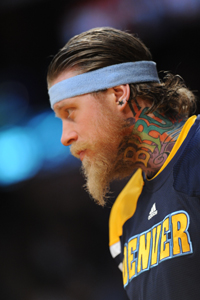 Lawyers have issued a statement defending Chris Andersen.
(Getty Images)
There are always two sides to every story, even the really ugly ones.
On Thursday, reports surfaced
indicating Denver
Nuggets forward
Chris Andersen
was the subject of a criminal investigation and that property had been seized after his house had been searched by Internet Crimes Against Children investigators.
Hours later, the Nuggets announced Andersen had been "excused from all team-related activities indefinitely," although he has yet to be arrested or charged with a crime. 
While at least one report on Thursday indicated that Andersen was the subject of a child pornography investigation, lawyers for Andersen said on Friday that he was actually the victim of an extortion attempt by a female acquaintance. 
The Denver Post first provided the statement
 from Andersen's lawyers. 
"A female fan in 2010 mailed Mr. Andersen multiple letters and included several photos in which she was scantily clad. Chris and this woman communicated with each other and in 2011, this woman, who represented herself as 21 years of age, flew to Colorado, showing her required identification. After leaving Colorado, she became upset at his lack of interest. In 2012, she threatened to retaliate if he did not provide financial remuneration. "
The statement, also released to the Associated Press by attorney M. Colin Bresee, indicated Andersen "has been fully cooperative with the authorities" and that his lawyers were "confident" that he "did not engage in any criminal conduct."
Bresee additionally said the investigation was expected to take as much as three weeks.
The Nuggets are set to play Game 7 of their first round playoff series against the Los Angeles 
Lakers
 on Saturday night at Staples Center.
Andersen, 33, has not appeared in a game for the Nuggets since March 25. He posted averages of 5.3 points, 4.6 rebounds and 1.4 blocks in 15.2 minutes per game in 32 appearances this season. 
Andersen was banned from the
NBA
from Jan. 2006 to Mar. 2008 for violating the league's substance abuse policy.
Our advanced computer model simulated Saturday's Thunder-Cavs game 10,000 times

The Jazz are reportedly looking into trading Rodney Hood before the Feb. 8 NBA Trade Deadl...

The Cavaliers are ready to reset everything if they have to. Their interest in Lou Williams...
It sounds like the Cavaliers are going to be active before the NBA trade deadline on Feb....

We've got all the scores, highlights and news for Friday night

George Hill, who is unhappy in Sacramento, could be a solution to Cleveland's backcourt si...