League investigating Twitter war, J.R. Smith didn't intend threat
The NBA is investigating the tweets between Brandon Jennings and J.R. Smith from this past week while Smith insists he didn't threaten Jennings.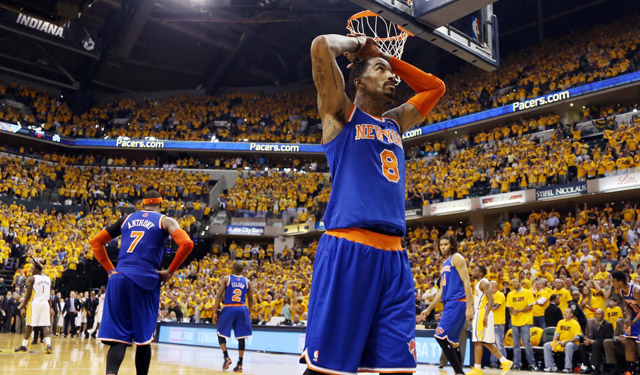 The Twitter war of words between the Smith family and Brandon Jennings is officially under investigation by the NBA. After Jennings questioned the employment status of New York Knicks' guard Chris Smith, brother of J.R. Smith, J.R. fired back at Jennings. Smith went so far as to say he had no respect for Jennings for deleting his initial critical tweet and mentioned that he "might call some of my Number street homies an put #Detroit on smash for a min!" He even tagged it with "DeadSerious."
The NBA didn't take kindly to such a display on social media and is looking into the matter, according to ESPN New York.
The NBA is investigating the Twitter feud between New York's J.R. Smith and Detroit's Brandon Jennings over the presence of Smith's brother, Chris, on the Knicks' roster, sources close to the process told ESPN.com's Marc Stein.

The teams meet Tuesday in Detroit, but the league office is expected to rule before then whether anything said between the two can be deemed threatening.
When asked about the exchange and his comments Thursday night, J.R. Smith said that he didn't mean to threaten the Detroit Pistons point guard with his tweet and that none of this was all that serious.
J.R. Smith said on Thursday night that he didn't mean to threaten Jennings with his tweet.

"Threaten? No. There's a way to threaten somebody, and that's not the way to publicly threaten somebody," Smith said before tipoff of the Knicks-Rockets game Thursday night.

He added that he and Jennings are friendly and have played basketball together during the offseason in Los Angeles.

"It's not that serious. I go to L.A. in the summertime and see him all the time ... I don't know how it got this blown out of proportion," Smith said.
Smith is just coming back from knee surgery and a five-game suspension, having played in the past three games for the Knicks. He's only shooting 25.7 percent from the field and has scored 32 points on 35 shots in those three games. This is probably not the way he wants to ease back into playing basketball, especially after the suspension the league gave him during the offseason.
The league could suspend him if they deem the threat was serious, which is something they'd take very seriously. Or they could choose to just fine him for coming out and saying something like that, which could prevent trash-talking from players on Twitter and other social media platforms in the future. The NBA just fined Matt Barnes partially for a post-game tweet after the Clippers' victory over the Thunder Wednesday night.
A fine or suspension against Smith could lead to something even worse: 
"I'm always in trouble with Twitter. I don't know what it is. I'm trying to shake it," said Smith, who added he's considering taking a hiatus from Twitter.
We can't have J.R. leaving Twitter. This is not a solution.
Warriors' forward doesn't understand the reasoning behind the all-too-common double technical...

Hardaway Jr. gave a 'safe' call like he was an umpire in baseball

Barnes hits the trey with less than a second left to lift Mavericks to dramatic 95-94 vict...
Kevin Durant was once again back in Oklahoma City

Gregg Popovich has never seen an injury lead to the issues that Kawhi Leonard has been fac...

Kobe Bryant, of course, had his 81-point game against Rose and the Raptors back in 2006