LeBron: 2014 free agency can't be worse than 2010; challenge accepted
LeBron James says 2014 free agency fervor can't be worse than what preceded 'The Decision', because he's delusional.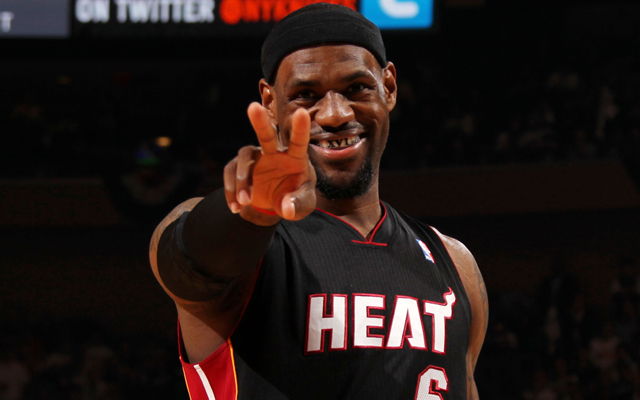 In an interview with the Associated Press this week after the Heat's championship celebration died own, LeBron James spoke in the past tense about what the Heat have accomplished together, opening up the possibility that he'll opt out in 2014 as widely expected. 
James ducked the question for the most part, but did say one particularly notable thing:
"I've been in this position before," James said. "I've heard it before. It can't get any worse than my season before I became a free agent in 2010."
via LeBron James Says 2014 Free Agency Not On His Mind, 'Goal' Remains More Titles With Heat.
Au contraire, my friend. After "The Decision" irrevocably changed sports culture forever and shifted the perception of free agency, people are more aware than ever that superstars can change teams, and that drives fan attention, which drives media attention. James said in the interview he's not going to talk about it, just as he didn't in 2010, but he was still hammered with questions the entire year. He's going to get the same treatment this season, perhaps more so because of the standard he set with The Decision. 
The two biggest stories of the next NBA season will not be about the play on the court. It will be the 2014 Draft featuring Andrew Wiggins, Julian Randle, Jabari Parker, and more, and James' impending free agency. If James thinks it can't get worse, he just hasn't been paying enough attention, even as the Heat attempt a three-peat. 
LaVar Ball formed a pop up shop in New York to sell Big Baller Brand merchandise. The results...

The Cavaliers players took a stand against bullying on social media

The Rockets are gunning for their 10th consecutive win
Victor Oladipo just wants to live his life and enjoy his breakout season with his new team

Keep it right here for all of the news, notes, scores, and highlights from around the Asso...

LeBron has a player option for next season, and is expected to opt out and become a free a...