LeBron admits to having 'nightmares' over Finals loss to Warriors
The King is not over the Cavaliers' loss to the Warriors in the NBA Finals, and says the injuries for the Cavs mattered.
Cleveland Cavaliers megastar LeBron James made a rare radio appearance on Bleacher Report radio Sunday with Howard Beck and Ethan Skolnick, and covered a wide range of topics, including how he prepared for his role in the Judd Apatow-Amy Schumer film Trainwreck out this Friday, what it was like watching the DeAndre Jordan saga next to Chris Paul and more. 
James specifically spoke about the Finals and about how he hasn't gotten over it, about he probably will not get over the loss to the Warriors. 
James admitted to having "nightmares" about certain plays and situations from the Finals loss, even as he admitted he needs to get over it because his kids won't let him stay in a funk. 
"You can never get out of it," James said. "No matter how much you try and say you did everything you did, you gave everything that you had and you move on, I don't feel like you ever move on. You're right there in the Finals and you had an opportunity to do something special." 
More interesting, though, were James' comments about what would have happened if Kyrie Irving and Kevin Love were healthy for the Cavs. Kyrie Irving said this month that Cleveland would have "definitely" won the title if those two had been healthy. James was a bit more reserved in his assessment, something that comes with wisdom. 
"It still doesn't guarantee you the championship if all guys are healthy," James said, "but obviously it would have given us a better chance. That's obvious. If we had our two All-Stars in the lineup, it gives us a better shot. Does it say we're going to win the championship? It does not. You still have to go out on the floor and play the game. But it definitely would have given us a better shot.

"I can't remember [any] team in NBA history, and I'm a historian of the game, that was able to get as far as we did missing two All-Stars."
James has the right idea here. I wrote on the subject during the Finals, and the answers I came up with were complex. There are ways in which both players would have helped tremendously. There are ways in which both players would have changed successful dynamics that the Cavaliers found in their run. Their net overall value is hard to deny, though, and the Cavaliers have a much better chance at winning the title next year if both players are healthy. 
As for those nightmares, James has lived with them before, four times as a matter of fact. He's got a short window to make some of them disappear, but after a year that was mostly him becoming readjusted to Northeast Ohio, the real work begins later this year as James readies the Cavaliers for their first real run at the title.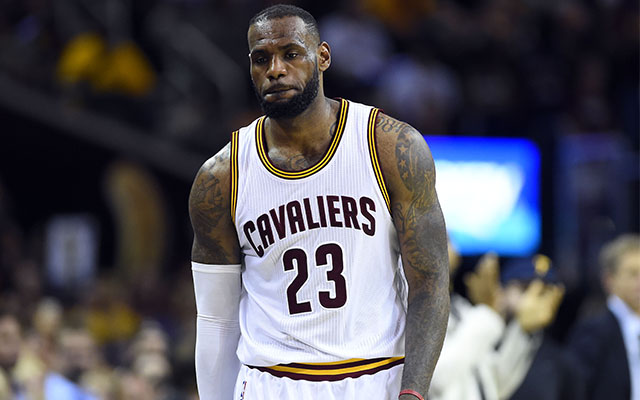 The Celtics guard is leaning towards siding with his new teammate but has questions about the...

Knicks media day and the first day of training camp in New York is Monday

A former Michigan State football player is suing Green over an alleged 2016 assault
Kanter took exception to KD saying he couldn't win a title with those "cats" from OKC

Green appears to mistaken his Warriors teammate for a chair in an amusing "NBA 2K18" glitc...

The new look includes a snazzy alternate mid-court logo which recognizes history in the Philadelphia...