LeBron and Heat face their darkest hour since coming together
The Spurs are on the verge of an NBA title, leaving LeBron James and the two-time defending champion Heat in their biggest hole yet.
More Finals: Spurs 107, Heat 86 | Court Vision: Spurs one win away
MIAMI -- Away from the interview room they went, riding in the back of a golf cart. The intermittent bleating of the horn pierced the din in the underbelly of the arena as LeBron James and Dwyane Wade were ferried off into the night -- into their most desperate hour.
They wore Miami Heat T-shirts, shorts, socks and sandals; no spiffy suits, designer frames or other accessories were required, or frankly, appropriate. The magnificent San Antonio Spurs had undressed them in front of the basketball world.
"They smashed us," James had said moments before in the interview room, in the aftermath of a 107-86 loss that put the Heat in a 3-1 deficit in the NBA Finals.
It was as forthright an admission as James has been forced to make since joining forces with Wade and Chris Bosh four years ago. That's how badly, how thoroughly the Spurs have beaten them.
There was no anger from James as the realization set in -- the cruel fact that he and the mighty Heat are in a hole that no team has ever climbed out of in the Finals. Remember the insecure James who sniped after losing to the Mavericks in the 2011 Finals about everyone having to go back to their boring lives while he'll continue to live his? That LeBron is long gone; this one is more mature, more assured.
He delivered the obligatory odes to the series not being over, and about the quest to make history. But while his game lacked the impact and assertiveness we've come to expect, his demeanor in the wretched aftermath was that of a two-time champion who understands that the Spurs can only take this title away from him.
Not the last two.
"I'm a guy who always just kind of lives in the moment, man," James said. "One thing you can't do is control what happened in the past. For me, I'm here at this point. I'm here with a 3-1 deficit."
No sugar coating. No excuses. No lashing out. Just reality.
"We're still a confident bunch," James said, "even though our heads are lowered down right now."
In becoming the first road team to win consecutive games by 15 points or more in the Finals, the Spurs haven't simply taken control of this series. They've battered the Heat to a point where they are no longer recognizable. Not even in their first trip to the Finals together, when they lost to Dallas, did they look so powerless -- so ordinary.
For James himself, you have to go back to the 2009 Eastern Conference Finals against Orlando -- when he was with Cleveland -- for a time when he's trailed by two games in a playoff series. Before that, James and the Cavs got swept by these Spurs in the 2007 Finals. That's it for his 11-year career.
"I didn't even remember that until you just told me," he said.
This one will linger, though. This is as vulnerable as we've ever seen him in his prime.
"We've put ourselves in a position where it's about making history," he said.
In the locker room, James' two boys frolicked and shushed each other as reporters gathered around Bosh. Behind a wall of cameras, Bosh said it was time for some "soul searching." James disagreed.
"There won't be much of that," he said. "Crazy thing is, my two boys are running around in the locker room after the game was over, so I had no time to even think about the game anymore. They want to know what's going on right when we get home. So having my boys around will allow me to get away from the game."
Had he thought about it, he would've had to agree with Bosh on this:
"They're pretty much getting everything they want," Bosh said. "They're carving us up on everything. We're getting beat down right now, and we're going to have to hold onto the ropes and get back up."
With their incredible movement, spacing, passing and instincts, the Spurs have dismantled the superstar team of our era. They've called checkmate, and now it is on the King to find a way out.
"If anybody can do it," Bosh said, "it's us."
But as his two superfriends made their way out of the arena, the golf cart engine whirring and the horn parting the crowd, the term "us" meant very little. For who are the Miami Heat now, if not just another helpless victim for the Spurs?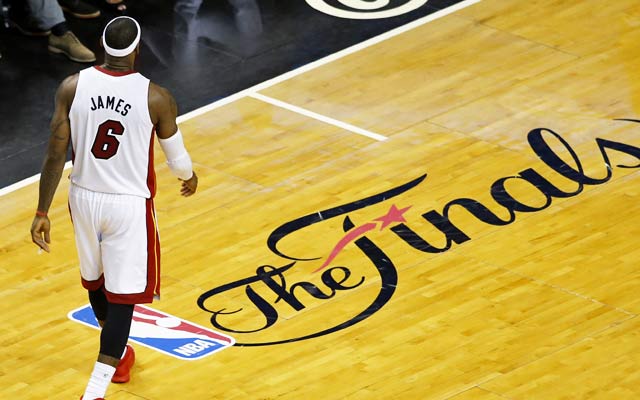 We've got all the scores, highlights and news from all of Sunday's games

The Rockets beat the Warriors 116-108 on Saturday night

The Cavaliers gave up 148 points in their loss Saturday afternoon to the Thunder
Blatt made the comment before coaching in the All-Star Game in Turkey

Is this rock bottom for the Cavaliers because it sure feels like it is

Wade, as he's done so many times in his career, threw it up to LeBron for the thunderous f...