LeBron defends Derrick Rose's right to decide on timetable for return
LeBron James defends Derrick Rose's decision on when to return, whatever it is.
by

Eye on Basketball staff

• 1 min read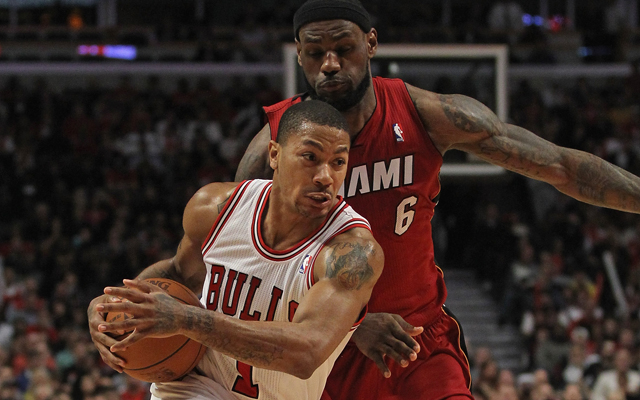 LeBron is standing behind Rose.
(Getty Images)
At All-Star media availability on Friday, LeBron "passionately" defended Derrick Rose's right to decide whether he should return this season. Rose recently told reporters that it's possible he could miss the entire season if his leg isn't right." 
CBSSports.com's Zach Harper was at LeBron's availability, where the reigning MVP stood up for Rose's decision and said he shouldn't be pressured to return. 
"Derrick Rose basically said 'If I'm not ready and I don't feel like I'm ready to play then I don't mind sitting out the whole season.' He shouldn't be rushed back by nobody.

Derrick Rose is his own man. This is Derrick Rose's career we're talking about. Nobody else's. If Derrick Rose comes back and gets injured again, Derrick Rose is the only person that has to deal with it. He's an unbelievable talent and one of the best players we've seen in this game.

Mentally when he's ready and physically he feels like he's ready then he'll make a comeback. Until then, he shouldn't rush." 
LeBron is standing up for a fellow player whom he respects a great deal. Rose's recovery, outlined by USA Today this week, has been more difficult than expected and has come with a great deal of pain. Rose had returned to full practice recently, sparking talk of a return in the coming weeks. But Rose's tone seems to indicate he's not physically or mentally where he needs to be in his recovery. 
Lakers center Dwight Howard has faced questions from fans, media and teammates this year regarding his willingness to play through a torn labrum in his shoulder. The key with Rose's return -- and Bulls management and coaches have reiterated this throughout the year -- is that it needs to be focused on Rose's entire career. The Bulls' championship window is open as long as Rose is healthy. That has to be his top priority. 
Until then, we'll keep waiting on Rose. 
Kidd was fired by the Bucks on Monday afternoon

We've got all the scores, highlights and news from an NBA Monday

Leonard was recently shut down again to rehab the nagging quad injury
Durant, who joined the Warriors, says that Capela, the league's most efficient player, has...

Jason Kidd's firing gets the celebratory balloon treatment on Milwaukee's Twitter page

Milwaukee has parted ways with its coach in the middle of his fourth season