LeBron doesn't know what he'll do in '14, because he can't
LeBron James' free-agent frenzy, Part II, has left the building, and there's no stopping it now. But that doesn't mean James should know what he's going to do. He can't.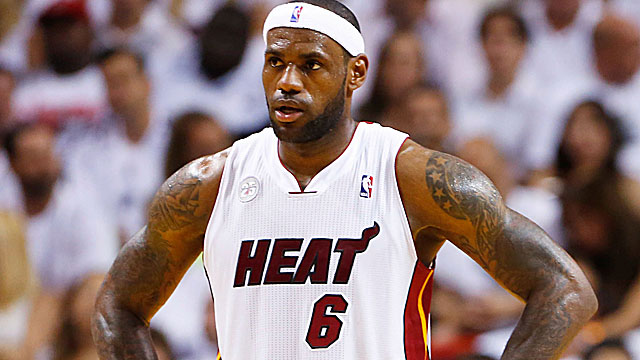 It's that time again -- time for the LeBron James free-agent frenzy to start all over again. 
Wait, it's only September? Ten months before the best player on the planet has a chance to opt out and become a free agent? Well, correct me, then. It isn't that time yet, or shouldn't be. But when LeBron James and free agency intersect, there is no threshold for news. The news can -- and will -- spontaneously combust at any moment.
This time, before James has even picked up a basketball in defense of his second straight title in Miami, the news is that James is cleverly setting the stage for what is sure to be a combustible run-up to July 1, 2014, when he can opt out of the contract he signed with the Heat after leaving Cleveland in 2010. Yes, 2014 is here already. It's come upon us early -- and sooner than anybody wanted.
After LeBron-a-Palooza 1.0, the NBA universe has endured the Melodrama and multiple Dwightmares. LeBron-a-Palooza 2.0 will make those look like harmless D-League transactions that barely make the AP wire.
You can tell, because it's starting already.
But what, exactly, is starting? There's nothing to see here, if you ask me. James was asked in a recent interview about his impending free agency and his plans. Nothing wrong with asking the question; we all know it has to be asked. As far as the handwringing and psychoanalysis that is whooshing behind his answer like a vapor trail, that we could all do without.
First, it should be understood that James was asked the question as part of a wide-ranging magazine interview. The quotes were broken out and fed to the Internet wolves, who found them quite tasty and demanded more.
You can read what LeBron said here, if you haven't already. I don't need to rehash what he said, except for the three words that his response could've been boiled down to -- the only three words that he should use to answer a question that, here on Sept. 12, 2013 and for the foreseeable future, has no other answer.
I don't know.
LeBron James doesn't know what he's going to do on July 1, 2014, when he has the negotiated ability to exercise an early-termination option in his contract and make 2010 happen all over again. He doesn't know, because he can't possibly know.
Why is he supposed to know now? Barely three months after carrying a physically damaged Dwyane Wade and a mentally frail Chris Bosh to a second straight title, why is James supposed to be able to see the future?
I could fill up cyberspace with all of the variables and unknowns that stand in the way of the player with the most leverage in the NBA announcing his intentions now -- or, even more foolishly, putting pen to paper on an extension with the Miami Heat. Here are just a few:
* What if Dwyane Wade doesn't physically resume being Dwyane Wade?
* What if Pat Riley decides to retire? He's pushing 70 years old.
* What if the Heat fall short of their third straight championship and Micky Arison decides that spending a bazillion dollars on luxury tax to keep his three max players together isn't the best fiscal alternative?
* What if Bosh and/or Wade, for whatever other reason, wind up playing somewhere else next season? Each also has an ETO in July.
The permutations are endless. What if James reaches a fourth consecutive NBA Finals and wins his third title in a row? Does that make him any more or less likely to opt in with the Heat? 
I don't know. Neither does he.
There's a tendency to continue painting James with the same brush that he generously handed to all of us painters back in 2010. At the time, he was 25 years old and was beginning to crack under the pressure of never having won a championship -- and the possibility of never winning one. He had never been recruited before -- for college or in NBA free agency. He'd spent his entire life in Northeast Ohio. While it's true that he couldn't have botched the infamous 2010 "Decision" any more thoroughly, it's also true that the James who did that doesn't exist anymore.
He'll soon be 29. This weekend, he will marry his longtime girlfriend, Savannah Brinson. He's won two championships. He's experienced what it's like to play with two other superstars in their primes, having done it for three seasons -- and soon, a fourth. Quite simply, it will be a mistake to apply 2010 logic to James in 2014.
There's also a tendency to apply the same expectations to James' impending flirtation with free agency that Carmelo Anthony and Dwight Howard ingrained in our consciences. Their circumstances could not be more different. Two years ago, Anthony was clear that he wanted out of Denver, and that he only had one place in mind -- New York. Howard was so openly confused for two years that the only thing that was clear was that he didn't have the foggiest idea what he wanted -- especially whenever he articulated what he wanted, and then changed his mind.
The only similarity is that, in both cases, it was unreasonable to expect Anthony and Howard to forego free agency and re-sign with their teams. It's even more unreasonable in LeBron's case. Why? For one, as a proven champion and the best player in the league, he has more leverage -- more options. For another, how could anyone argue with a straight face that James owes any loyalty to the Heat, an organization that was viewed as every bit the villain that James was in 2010?
As for signing an extension with the Heat now, or sometime before June 30, as NBA rules allow since James' current contract was signed three years ago, I ask, why? Why commit to circumstances that you can't possibly know?
But it's simpler than that. Under terms of the 2011 CBA -- a document that players are beginning to openly complain about only two years after signing off on it -- James can only get one year added to the three he has left if he signs an extension between now and June 30. If he were to opt out and re-sign with the Heat, he'd get a five-year deal. Or, if the Heat won again and Arison agreed to keep the band together, James could opt in for one more title run in Miami and then exercise a player option in 2015 -- whereupon he'd get a four- or a five-year deal that, health-permitting, would give him one more crack at free agency in his mid-30s.
The CBA that James was only passively involved in negotiating accomplished many things, some of which aren't yet entirely clear. But two things it accomplished couldn't be more obvious, and they both apply to James: 1) the days of teams assembling three max players in one fell swoop, as the Heat did in 2010, are over for almost everyone due to the massive luxury-tax penalties; and 2) this CBA encourages players to become free agents. A one-year extension? For LeBron James? Please.
Free agency is good for business, and no one's free agency is better for business than LeBron's. And ultimately, he can fan the flames or try to squelch them all he wants, but the beast has already left the barn and is galloping toward July 1, 2014 with reckless abandon. There's no stopping it now.
But that doesn't mean LeBron James has to know what he's going to do. He doesn't. He can't. And if you're waiting for him to answer these questions with anything other than, "I don't know," then the run-up to James' 2014 free agency is going to be a very unfulfilling exercise for you.
But then, it always is.
Here are the full lineups for the 2018 NBA All-Star Game

We've got all the scores, highlights and news from an NBA Tuesday

Players reportedly challenged Love for leaving Cleveland's game against OKC early
The Cavaliers are reportedly very close to acquiring the 10-year veteran point guard

Kobe Bryant is now an Oscar nominee. Here's how you can watch his short

Players such as Metta World Peace, Baron Davis and Nate Robinson have signed on