LeBron, Heat close out one champion as aspiring Thunder await
LeBron James scored or assisted on all but two of the Heat's baskets during a deciding 18-4 run in the fourth quarter, sending Miami to the NBA Finals for the second straight season with a 101-88 victory over Boston in Game 7 of the Eastern Conference finals on Saturday night.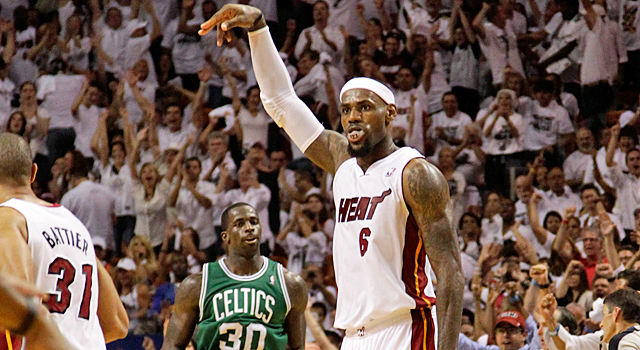 James reacts after hitting a back-breaking 3-pointer in the fourth quarter.
(Getty Images)
MIAMI -- Before
LeBron James
 staggered the great
Celtics
of the Big Three era in Boston, and before he closed them out in the fourth quarter of Game 7 in Miami, he had another opponent in front of him.
Back in November in James' hometown, during the throes of a bitter lockout that threatened to wipe out an entire season, it was LeBron and
Kevin Durant
challenging each other on the court at the University of Akron. 
"We called it our hell week," James said Saturday night.
Now, welcome to a fortnight of fury: LeBron vs. Durant in the
NBA
Finals.
James and the
Heat
are going back for the second straight year, but only after finally absorbing what likely was the final flurry of body blows from the Celtics, who walked dejectedly out of American Airlines Arena on Saturday night --
Kevin Garnett
without shaking hands or speaking with reporters and
Ray Allen
with tears in his eyes -- perhaps for the last time together.
James had flinched in the fourth quarter against the Celtics in a Game 5 loss in Miami, then demolished them with an historic 45-point, 15-rebound performance in Game 6. After staring down the challenge of finding a way around (and through) these great Celtics on their own floor, James had one obstacle left.
He had to do it in Game 7. And he had to do it in the fourth quarter.
Check, and check. With 11 of his 31 points in the fourth, James scored or assisted on five of Miami's seven field goals during a deciding 18-4 run that finally put the Celtics away in a 101-88 victory in Game 7 of the Eastern Conference finals.
"You can never relax on the court when you're competing with those guys," James said.
With Allen and Garnett both free agents -- and Allen strongly hinting this was the end for this Celtics group -- Boston faces a number of challenges heading into summer.
But for James, another challenge awaits. The King, the Chosen One and the author of what he hopes is a new chapter in his post-Cleveland existence, James must now contend with Durant, that same foe from those four days of workouts in Akron. As he hunts down that elusive first championship in his third trip to the Finals, James must deal with the incredible Durant, who is four years behind James but neck-and-neck in their headlong race toward the Larry O'Brien Trophy.
It's a collision James has been thinking about since November.
"I envisioned it every day we worked out," James said. "I understood what his passion was. I understood what his drive was. We pushed each other every single day."
Here is the next obstacle for James. Durant, a brilliant talent who's grown into so much more than a scorer, also is universally liked and admired. In many ways, he's the anti-LeBron of this NBA -- the antidote to the scheming and wanderlust that brought the Heat together two summers ago.
The showdown starts Tuesday night in
Oklahoma City
with Game 1. Game 1 of 7, if you ask me, if James and the Heat play on the road the way they did in Game 6 and if James displays the closer's instincts he gave a rare glimpse of when he unleashed on the Celtics on Saturday night.
"When he hit that 3-pointer from 30 feet," one Celtics official mused regrettably on his way out of the building, "there's nothing you can do about that."
James had finished off the Celtics, had done to them in the fourth quarter what they usually do to him. It was a dizzying display of cunning and aggression at that point in the game when James is known to shy away from the moment.
Not on this night. His greatness sent the Celtics -- one of the closest-knit teams of their era -- scattering in all different directions with the unmistakable cloud of finality hanging over them. Garnett strode quickly out of the building at 11:40 p.m. ET, barely a half-hour after the final horn, followed by
Paul Pierce
with a blank stare and finally, Allen.
"I don't know," Celtics president Danny Ainge said, when asked where the team goes from here. "That's a hard question to answer. I love these guys, but we'll see."
James had finally ended it, finally put a stop to this run of Boston greatness -- a team with uncanny playoff instincts that had ended two previous seasons for the King in disgrace. James chased them out of Miami the way the Celtics had chased him straight from Cleveland to Miami two years ago. 
"You always feel on edge when you go against them," James said. "This is their chemistry that they built over the years. It's like no other team that I've ever faced in the postseason."
And he may never see them again. James had run the Celtics off their own floor in Game 6, and now he was doing it at winning time in Game 7 -- doing it in the fourth quarter, where the Celtics' championship grip finally let go. 
James was right, as it turned out, when he said Thursday night, "I won't regret Game 7."
He checked out to an ovation with 28.3 seconds left with 31 points and 12 rebounds. His hands were all over a nine-minute body of work that finally knocked the Celtics out.
Allen had hit a 3-pointer to give Boston an 82-81 lead with 8:49 left, and James would go to work -- with a seldom-used closing lineup featuring him as the point guard. With the ball in LeBron's hands and
Dwyane Wade
,
Chris Bosh
,
Udonis Haslem
and
Shane Battier
on the floor with him, the Heat ended this with a suddenness that was stunning.
James drove an unpopulated lane for a dunk, passed out of a double-team to Bosh for a 3-pointer and made a driving layup to give Miami an 88-82 lead with 6:54 left. He then answered a jumper from
Brandon Bass
with a 3-pointer to make it 91-84 with 5:44 left. That was the dagger, from 30 feet.
The guy who couldn't close was closing out the Celtics, putting an end to an era, in the fourth quarter of Game 7. When it was over, it was an 18-4 sprint from the 8:49 mark until Rondo finally made a jumper with 39.6 seconds left. It was all with that lineup on the floor, with the offense flowing through an unguardable James, who scored seven of the points and assisted on five others. For those nine minutes, Miami's closing lineup had an offensive rating of 131.6 and a defensive rating of 60. In other words, lights out.
"What we were saying to each other," James said of the huddle that preceded that pivotal run, "was, 'It's time.'"
It was time for the Celtics to leave Saturday night, a few minutes before midnight on the East coast. As K.G. strode out of the loading dock exit, met by the steamy haze of South Florida and a crowd of screaming hecklers behind the arena gates, it symbolized that James had sent one great champion packing. Now comes the next challenge, and his initials are K.D.
"I envisioned us getting to this point," James said. "It's only right."
One great champion down. An aspiring one awaits.
Jonah Keri talks with NFL and NBA broadcaster Ian Eagle

SportsLine simulated Wednesday's Nuggets-Clippers game 10,000 times

Galin Dragiev has his finger on the pulse of the Lakers and just locked in a play for Wedn...
No more McNuggets allowed in the Barnes household

Leonard has played in only nine games this season for San Antonio

Pierce is set to have his jersey retired on Feb. 11, but there's been a lot of controversy...