LeBron James' 61 showcases the evolution of his jumper and his game
LeBron James' lethally efficient 61-point performance was built around a part of his game that had for so long been his weakness: his jumpshot.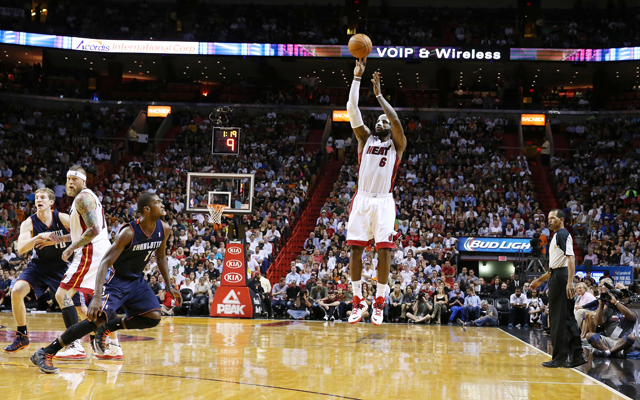 "And he is not a natural jump-shooter. He's kind of a self-made jump shooter. He makes the ball go in, the ball goes in, but it's not pretty, his balance isn't perfect. It's not going to look like Kevin Durant or

Ray Allen

. It goes in but at the end of the game that extra extra special player... Sometimes I don't know if he trusts his jumpshot. He needs to get to the rim. If you take away the rim, he's probably going to pass the ball more often than not."
- George Karl to Jim Rome on Miami Heat star LeBron James, June 2012
More: MVP impact? | Watch every bucket | Twitter reacts | Heat beat Bobcats
Those words of coaching great George Karl comprised the book on LeBron James for years. From the moment he stepped into the league, James has been one of the most dynamic, explosive scorers in the league. But his brilliance was predicated on his skillset and his other-worldly athleticism and explosiveness. The formula for beating him wasn't easy, but it was plain. Keep him away from the rim, force him to take the jumper, lure him into threes. 
On Monday night, when James dropped 61 on the Charlotte Bobcats he did it by shooting 8-of-10 from three including his first eight straight, and not dunking once. Not. Once.
How did we get to this point where James' jumper is now just as unstoppable as his drive to the rim, his passing ability, his transition death machine? How have we reached the point where we take for granted that James' greatest weakness, his Achilles for years, is now a strength? After all, what Karl talked about was the book on how to contain James. 
It's in part how the Celtics stopped him in 2008, in part how the Magic stopped him in 2009, in part how Boston did it in 2010, and how the Mavericks did it in 2011. Boston ran help at the elbows and then again down low to discourage drives. The Magic ran a modified zone. The Spurs tried the same in last year's Finals. It worked for a while. But then, of course...
What's fascinating is that James' evolution as a jump shooter has coincided with his evolution inside. In 2012, he adapted his game to use the post more than ever, and it was instrumental in his success in overcoming the Celtics' challenge in the Eastern Conference Finals and the Thunder in the Finals. The adjustment of being an inside player with his size changed the way defenses approached him and his career arc. He had truly evolved. He didn't need his jumper as much. Yet at the same time, his outside shot evolved. First, a look at where he was when he started and where he's gotten to now: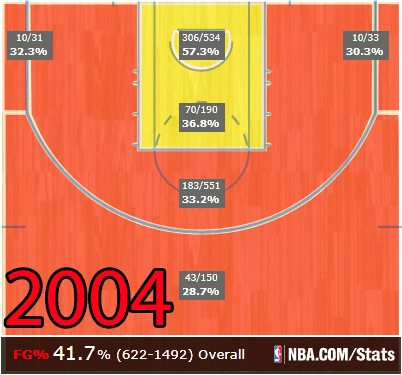 And here's his mid-range and perimeter shots evolution, from Basketball-Reference:
That's a remarkble evolution over ten years, and it reflects how James continues to improve, even as he starts to enter the last few years of his prime. And this was something James worked on, it wasn't natural. Consider his comments during the Finals last year, from Zach Harper of CBSSports.com: 
"I think in '07 they kept -- when I got the ball, they kept me on the sideline," James said. "They went under a lot of my pick-and-rolls and dared me to shoot. Back in '07, I ran a lot of pick-and-rolls. They funneled me to the sideline with Duncan and [Fabricio] Oberto and Bruce Bowen and Michael Finley, and those guys funneled me to the sideline and dared me to shoot it and didn't allow me to get to the paint where I did most of my damage back in '07."

Now? Good luck trying to get James to not score efficiently by going under on plays where he's running the pick-and-roll. James shot 43.2 percent on mid-range shots this season and 40.6 percent on 3-pointers. According to Synergy Sports, he was the 13th-best scorer in the NBA in pick-and-roll plays as the initiator.

"If you go into my pick-and-roll now, I'm going to shoot," James said. "And I'm confident I'm going to make every last one of them. I'm just more confident in my ability to shoot the ball. But at the same time, I also have a lot more weapons this time around going against this team, where in '07 they loaded three guys to me a lot on the strong side of the floor."

"I'm a better player," James confidently stated, "and you can't dare me to do anything I don't want to do in 2013."
via NBA Finals: LeBron James, different player than '07, wants revenge 
It gets lost because of his natural ability, his stunning natural ability and a body that stretches the definition of "human," but James' work ethic has been the engine behind his rise to true greatness. He could have been a phenomenal player, but to reach the heights he has as he moves into conversations for top-five all-time, you have to do the work. Not just the physical work, building muscle, staying healthy, sharpening execution, but building skills. He became a better passer, he learned the pick and roll better, and as time went on, he identified his weakness and instead of denying it like so many players do, he embraced that weakness, came to understand it, and overcame it. 
In a life where everything has come so easy for LeBron James when it comes to basketball since he was 15, it's been the work to evolve beyond his circumstances, much as he did with his life growing up in Akron, that has put him beyond the reach of description. 
He trusts his jumpshot, he understands his game and on nights like Monday, he shines like no one else. 
The Celtics will send No. 34 to the rafters in Boston when they take on his old rival

It's never too early to look at June's NBA Draft

Cousins uses some colorful language to get his point across
The awards are voted on by peers in the NBA and adds to Russ' league MVP award he won this...

Minnesota is facing even bigger expectations headed into next season, and they'll be difficult...

When the NBA MVP odds came out, it got us thinking: Will stat-compiler Russell Westbrook win...