LeBron James agrees with Kobe: Team USA 2012 could beat Dream Team
LeBron James says as a competitor he believes his 2012 Team USA could take the Dream Team. Is he crazy, or just doing what he has to?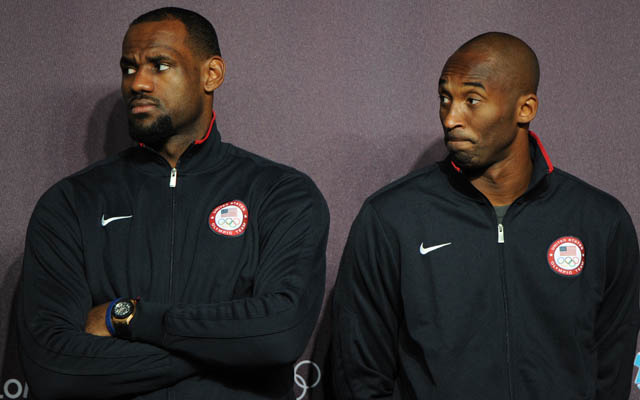 "I'm sorry, we can't beat who? Run that back one more time?"
(Getty Images)
Oh, great. Here we go again. 
After Kobe Bryant opened fire on the famous 1992 Men's Olympic Basketball Team, better known as the Dream Team, saying that this year's Team USA could take them, and after Michael Jordan responded by laughing out loud all the way to the bank about the idea, now we have a new turn. Before Friday's opening ceremony for the Summer Olympic Games, LeBron weighed in. From USA Today: 
"The '92 Dream Team paved the way for all of us," James said to ABC NewsNightline anchor Cynthia McFadden in an interview before the Olympics. "We understand what they did for our game."

Then, James dropped a bomb and sided with U.S. teammate Kobe Bryant.

"We are also are big-time competitors as well, so if we got the opportunity to play them in a game we feel like we would win, too," said James, who was taking in the Olympic ceremonies on Friday with his teammates.

"As a competitor you never want to say that you will lose, no matter who you are going against."
via LeBron sides with Kobe on Dream Team debate – USATODAY.com.
Well, to be fair, it had been about three months since LeBron said something which caused everyone to facepalm. 
Look, the reality, if you look behind the point of what Bryant was saying, that in a 100-game series, eventually this year's team would get them, that's not totally crazy. And the sentiment being expressed here by James is similar. If you're at the level of competition these guy are, the only way to survive is to emit confidence like it's sweating from your pores. You never back down to any challenge, never question your ability to take on anyone. It could be a team of mutant rhinos with lazers on steroids and human brains, and Team USA would still be like "Oh, yeah, we can take them." 
But there's just no way you can possibly consider this team better than that team. This team isn't even better than the 2008 team which was healthier and more well-rounded. The Dream Team had size in David Robinson and Patrick Ewing. It had crazy athleticism in Clyde Drexler and Karl Malone. It had the best point guard of all time in Magic Johnson, had Charles Barkley, had some of the best shooters in Chris Mullin and Larry Bird. 
And oh, yeah, MICHAEL JORDAN. 
But James is going to keep saying these things, like the rest of the team is, because they consider it a matter of respect and a matter of professional pride. And the rest of us will keep wondering if they're completely out of their minds. 
Check in throughout the night for the latest news and highlights from NBA games

The Lakers legend details why the NBA popularity will continue to rise

SportsLine's Mike McClure, a DFS pro with more than $1M in winnings, gives optimal lineup...
If the Thunder forward doesn't know the reason, he has a very short memory

The 76ers star doesn't see a bright future for Jon Snow

Valanciunas played professionally in Lithuania before joining the Toronto Raptors