LeBron James and Dwyane Wade had dinner in Vegas Monday so...
Heat superstars meet for dinner and drinks at LAVO in Vegas. Does this mean the King is headed back to Miami? Spoiler: No, it doesn't.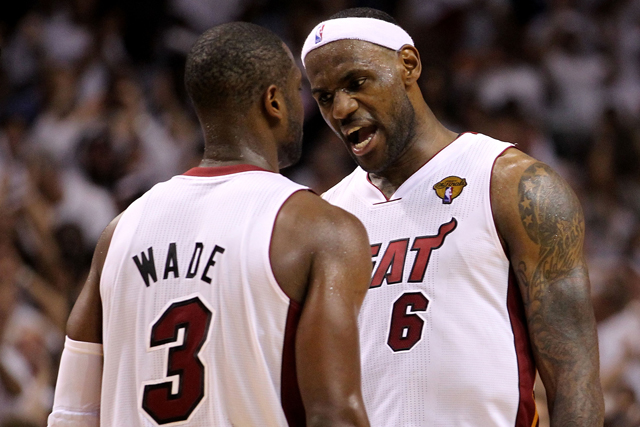 More on LeBron: James' free agency page | Doyel: NBA revolves around LeBron
It all started with a tweet. Yahoo Sports first reported that free agents LeBron James and Dwyane Wade had dinner in Las Vegas Monday night. 
LeBron James & Dwyane Wade had dinner at LAVO in Vegas late last night with some friends before going to Marquee Night Club, a source said.

— Marc J. Spears (@SpearsNBAYahoo) July 8, 2014
LAVO spokeswoman on dinner last night: "James and Wade enjoyed items from the LAVO menu such as sea bass, steak and grilled vegetables."

— Scott Cacciola (@ScottCacciola) July 8, 2014
In news that will thrill @KBergCBS, PR person at LAVO e-mailed to say LeBron James and Dwyane Wade stuck to Paleo diet for dinner last night

— Jeff Zillgitt (@JeffZillgitt) July 8, 2014
Welcome to 2014, folks! Just to recap:
A Miami radio station did a "LeBronathon."
People are tracking Dan Gilbert's plane, which prompted him to remove public tracking of it. 
People are stalking Pau Gasol as he eats: 
Pau Gasol is currently dining in Beverly Hills, awaiting Kobe Bryant and Carmelo Anthony. #CountOnArye pic.twitter.com/anaNtcklx3

— Arye Abraham (@aryeabraham1) July 7, 2014
And now James and Wade being spotted out with their wives is a thing. How do I feel about this? 
As a reminder, LeBron is literally the worst steak-eater in the entire universe. 
It does seem weird if James is leaving Miami, right? "Hey buddy, good to see you. Listen, I'm going to effectvely destroy your chance of title contention for the remainder of your career. Drinks on me!" That doesn't sound right, does it? Doesn't sound right. 
Also, good sign for Heat fans that Wade's trying to eat right. Getting in good condition and changing his diet habits as a lot of stars have done after age 30 is going to be key for his careeer. 
And hey, probably less controversy over this Vegas trip than the one in 2010. 
In reality, James is in Vegas weighing his decision while he attends his annual basketball camp. 
Right before Wiggins hit his shot, Carmelo Anthony hit a 3 to put the Thunder in front

The Suns firing Earl Watson three games into season is second-quickest firing in NBA histo...

Bledsoe tweeted, "I Dont wanna be here"
Giannis had his hand on McCollum's hip when he poked the ball away

Teodosic had to leave the Clippers' game Saturday night against the Suns

Irving said recently that he does not regret the profane outburst