LeBron James apologizes to Akron neighbors for circus with cupcakes
James family sends note and a dozen custom LeBron James cupcakes as gratitude for putting up with random people in neighborhood prior to Decision 2.0.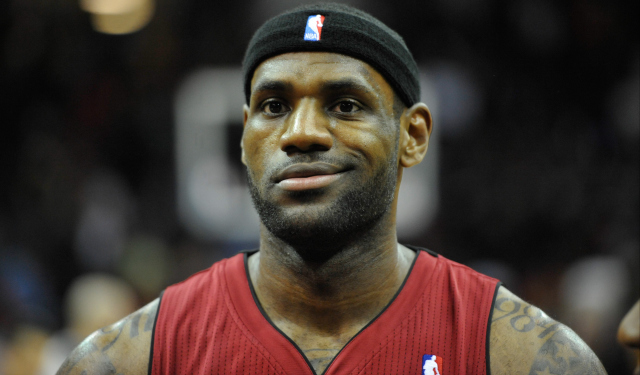 Offseason: Free Agency | Latest from Ken Berger | Rumors
Remember when LeBron James was in the middle of The Decision 2.0 and Ohio generally lost its mind, including when people went to his Akron house, and parked outside because there was supposed to be an announcement? This despite the fact that James wasn't actually at the house in Bath Township; he was in Las Vegas at the time. 
Well now that James has returned to the Cavaliers and started to repair relationships there, he's also making amends with his neighbors. This tweet made the rounds Wednesday morning, from a neighbor showing the apologetic note and a gift from the James family. 
@KingJames Showing love for the neighborhood!!! Thanks for the cupcakes!! pic.twitter.com/1hjkNoUf6X

— David Galehouse (@DavidG_House) July 22, 2014
So that's nice of him.
"We know things have been hectic in the neighborhood these past few weeks and we are sorry for the chaos," the note reads. "We are so thankful to live in this wonderful community and we are so blessed to have understanding neighbors like you."
"As a gesture of our gratitude and appreciation, our family wants to give you something that is meaningful to us, our foundation's cupcakes. We hope you enjoy the treat!"
The family sent six "Just A Kid From Akron" Cherry Cola Cupcakes and six "Home Court Chocolate Chunk" Cupcakes. The cherry cola one may not sound good on the surface, but the flavors actually lend themselves well to a cupcake, one would think. A local confectionery, Caroline's Cupcakes, had posted on Facebook the week before James' decision that he was returning to Cleveland, so you wonder how long this whole thing was in the works. But a nice thing for James to do. He's just picking up the approval rating all over Ohio.
Milwaukee's star did not get cleared to play for his national team due to a painful knee i...

Ball, the second overall pick in the NBA Draft, is receiving even more hype

Rap mogul supports the vision the outspoken father has for his brand and sons
Deciding who to watch on League Pass can be difficult, but these rankings promise to help

Veteran forward signed a one-year deal with the Knicks in offseason

Knicks forward had his truck stolen out of his driveway