LeBron James, Dwyane Wade, Chris Bosh will all play Friday for Heat
With the Miami Heat playing the Boston Celtics on Friday night, LeBron James, Dwyane Wade and Chris Bosh have all decided to play.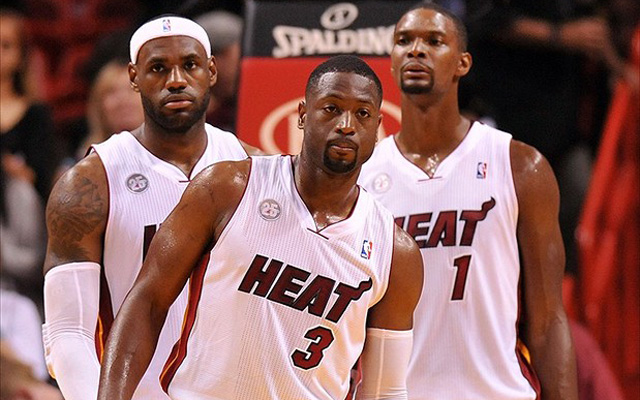 The last time all three of the Miami Heat's main trio played in a game together was March 29 against the New Orleans Hornets. Miami won the game 108-89. Since then, they've been sitting Dwyane Wade every night and moving Chris Bosh and LeBron James in and out of the lineup to get them some rest for the upcoming playoffs. 
With the Boston Celtics in town on Friday night, the team announced that all three players will be in the lineup and prepared to complete their four-game series with the Celtics.
Chris Bosh, LeBron James and Dwyane Wade will all play in tonight's #HEATgame.

— Miami HEAT (@MiamiHEAT) April 12, 2013
The Celtics are without Kevin Garnett and Paul Pierce for the showdown between these two "rivals," which means you'd expect the Big Three in Miami to turn this game into a laughing stock. But the Celtics do manage to rally around key pieces being out and can certainly put up a pretty good fight, even against a loaded Miami squad. 
The Heat have won two of the three contests against the Celtics this season, most recently on March 18, when they won a thriller to extend their winning streak to 23 straight games. The streak eventually stopped at 27 games when they lost to the Chicago Bulls. A win for the Celtics and a loss for the Milwaukee Bucks on Friday night would lock the Celtics into the seventh seed, where they would potentially avoid the Heat in the playoffs until the Eastern Conference finals. 
Kris Dunn somehow took a chunk of the Bulls court out with his teeth, but didn't lose any in...

The fallout from the Rockets-Clippers tussle continues; no Clippers were disciplined

DH12 is picked for free throws after a teammate gets ejected. He makes both, and lets Scott...
Bell was injured defending a Robin Lopez dunk and had to be taken off the floor in a wheel...

Trevor Ariza and Gerald Green are reportedly both suspended two games

We've got all the scores, highlights and news from Wednesday night