LeBron James free agency update: Suitors make pitches to agent
The Suns, Cavs, Rockets, and Mavs have all met with Rich Paul, LeBron James' agent, as the Miami Heat prepare to fend off poachers.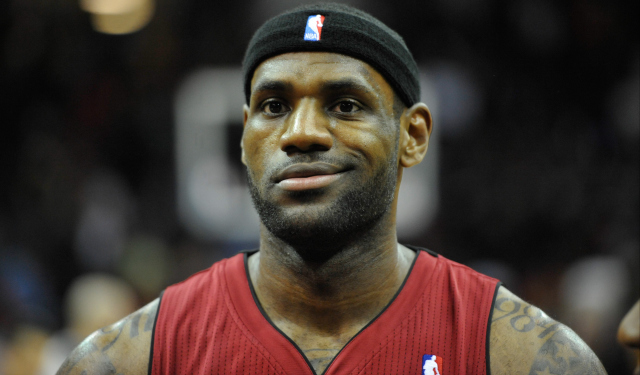 More Offseason Analysis: Coaching changes, news | Free Agency | Draft
We've got a week until free agents can officially sign their deals and the biggest domino has yet to decide which way to fall. Miami Heat forward and prized free agent LeBron James has been on vacation while his agent has been fielding offers from several teams. A month ago, it seemed improbable that LeBron would leave the Miami Heat, but the 2014 NBA Finals were an awakening to the idea that they might not be the slam dunk option we all assumed them to be this summer. It seems like potential suitors are looking to pounce.
Let's go over the latest reports and options for LeBron as the Heat prepare for more of a battle than maybe they thought they'd have to endure.
ESPN.com's Chris Broussard reported that the Phoenix Suns were the latest team to meet with Rich Paul, James' agent. While Suns' owner Robert Sarver has been historically cheap, he's trusted Ryan McDonough to turn his franchise into a real contender. Just one year after taking the job, the upstart Suns look poised to add a major free agent or player via trade. That player could be James as Sarver pitched the idea to his agent while discussing teaming him up in Phoenix with Carmelo Anthony or Chris Bosh.
Sources: Suns owner Robert Sarver was n Cleveland yesterday & met with LeBron's agent, Rich Paul. Teaming LJ/Melo or LJ/Bosh n Phx discussed

— Chris Broussard (@Chris_Broussard) July 4, 2014
James and Suns' restricted free agent Eric Bledsoe share Rich Paul as an agent. Bledsoe is a favorite of LeBron and the idea of teaming them up together with another major player and recent All-NBA point guard Goran Dragic seems pretty desirable. Instead of being a tanking team like many assumed before last season, the Suns nearly made the playoffs with one of the more enjoyable teams to watch on a nightly basis under new coach Jeff Hornacek. 
They also have the best training staff in the NBA, who could help ensure LeBron is always in top physical health for the long hauls of title contention.
The Suns are one of four teams who have met with Paul about James' decision this summer, according to Marc Stein of ESPN.com. The Cleveland Cavaliers, Houston Rockets, and Dallas Mavericks have also pitched LeBron's agent on the idea of the best player in the NBA joining their respective teams. 
ESPN sources say reps from Cavs, Suns, Rockets and Mavs have all met with agent Rich Paul in Cleveland while LeBron has been on vacation

— Marc Stein (@ESPNSteinLine) July 4, 2014
We know the potential allure of James going home to Cleveland/Akron where he started his career, and trying to make good on a championship. The Cavs have a lot of roster flexibility and assets at the moment, including Kyrie Irving and his newly agreed upon max extension and No. 1 pick Andrew Wiggins. The Cavs could even move Wiggins to a team like the Minnesota Timberwolves in exchange for Kevin Love to provide more veteran star support alongside James.
The Rockets have Dwight Howard and James Harden to offer up LeBron, or there have even been reports about moving Harden to the Knicks in exchange for a signed Carmelo to play with James and Howard. The Mavericks can offer up playing with Dirk Nowitzki and a workable roster under Rick Carlisle, one of the coaches who helped take down the Big Three in Miami back in 2011. 
Adrian Wojnarowski of Yahoo Sports reports three finalists could return next week to make free agency presentations to both Rich Paul and LeBron. He's also reporting there's a potential breakdown in communication with free agents Chris Bosh and Dwyane Wade, which could lead to the Heat's plan falling apart and LeBron really exploring other options.
Three finalists could return to Cleveland early next week to make presentations w/ agent and LeBron James present, source tells Yahoo.

— Adrian Wojnarowski (@WojYahooNBA) July 4, 2014
Says official who was part of meetings ESPN reported on: "There's clearly a breakdown in communication between LeBron and (Wade and Bosh)."

— Adrian Wojnarowski (@WojYahooNBA) July 4, 2014
Unless Pat Riley lines up talent appealing to James within cap structure soon, one LBJ suitor says: "LeBron seems ready to explore market."

— Adrian Wojnarowski (@WojYahooNBA) July 4, 2014
The Heat's best chance to convince LeBron was to add a major free agent like Kyle Lowry or a good center like Marcin Gortat this offseason. Both of those guys have verbally agreed to re-sign with their respective teams, leaving the free agent market relatively shallow in terms of big upgrades to the roster for Pat Riley to make. Perhaps there could be a desperation ploy to find Carmelo's way to Miami, but that seems like a long shot.
Turning their attention to Pau Gasol, Shawn Marion, Vince Carter, and other veterans could bolster the roster enough for James to want to stay in Miami. But it's not the no-brainer option we all assumed it once was. It will be interesting to see how the Heat deal with this potential speed bump and whether or not teams can truly take advantage of a seemingly growing chance at poaching James from Miami.
LaVar Ball also made it clear he thinks his sons are being placed in 'a great situation'

The Thunder are just 12-14 on the season, despite the addition of Paul George and Carmelo...

The then-Heat teammates squared off during the 2011 ECF, but Erik Spoelstra put a stop to the...
SportsLine's Mike McClure, a DFS pro with more than $1M in winnings, gives optimal lineup...

Stephen Oh has his finger on the pulse of the Rockets and just made a pick for Wednesday night's...

Gasol doesn't seem opposed to the idea of a midseason trade