LeBron James goes to work in the paint for Team USA vs. Spain
Team USA relies on LeBron James' play at the center position to overcome Spain's size in an exhibition win.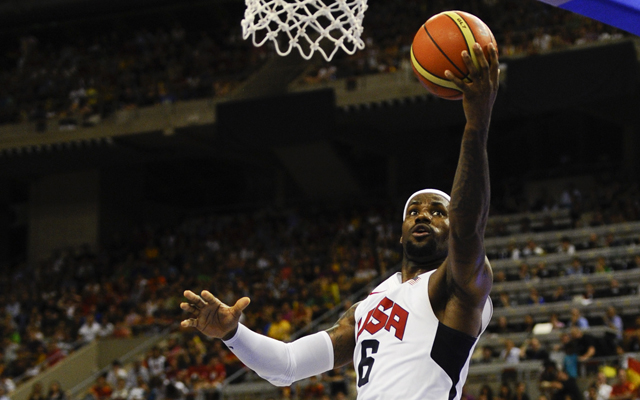 LeBron James played big for Team USA Tuesday.
(Getty Images)
Even with Spain's Marc Gasol out, Team USA's lack of interior strength was evident as Tyson Chandler landed in foul troule, eventually fouling out in the fourth quarter under FIBA's restrictive five-foul-disqualification rule.
But when Team USA lost the size, it turned to the talent. Team USA 100, Spain 78.
LeBron James played a long stretch for Team USA in the second hal at the center position, and his versatility and strength pushed the Americans' lead back to more than fifteen. That was all she wrote.
In fact, the move actually opened up more opportunities for Team USA, with James' versatility meshing with USA's plethora of wings to create more ball movement and attacks at the rim. Combine that with James doing things like nailing up-and-unders beneath the basket to get easy looks and the drive and kick to kick start the perimeter rotation and free USA's shooters, and that's all she wrote for the Spanish team.
Gasol may have helped with contesting USA at the rim, but there's a cost with their speed. And when Team USA started getting out in transition, that's when the Americans broke the game open.
Without the ability to contest Spain at the rim with Chandler, and after Team USA elected to bring a bucket load of wings instead of any alternate centers, Team USA needed transition opportunties, and they created them by getting into the passing lane. Spain's pick and roll attack was neutralized by the athleticism of the Americans...like James. 
James may have to play more minutes at the five, as coach Mike Krzyzewski has been resistant to playing Anthony Davis or even Kevin Love because of the defensive fall-off. James makes up for the size differential with athleticism and muscle. It's a testament to his versatility that he can play at that position. More and more it becomes apparent that much like his role with the Heat, James will be the key for Team USA. Not just for his scoring but his ability to control the game on so many levels.
Jordan Bell had himself a night against Portland

The younger Ball brothers are heading to BC Prienai, but that could spell trouble

Not many games, but still plenty of action and intrigue Monday in the Association
SportsLine's advanced computer model simulated Tuesday night's Lakers-Knicks game 10,000 t...

The Reno Aces are concerned about the new WNBA franchise stealing their thunder

Hinkie parted ways with the 76ers in 2016 after drastically changing the direction of the...