LeBron James has been dealing with back spasms for a couple weeks
Miami Heat star LeBron James didn't quite looked like himself Thursday, and it's probably due to the back spasms he's been going through for a couple weeks.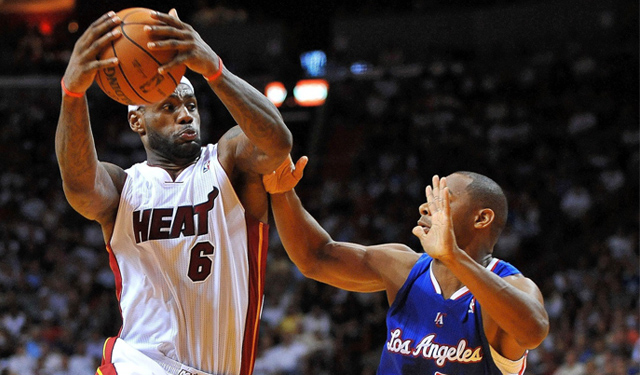 If you watched the Miami Heat beat the Los Angeles Clippers Thursday night, you probably noticed that unless Willie Green was defending LeBron James, the MVP wasn't moving all that effectively. Blake Griffin routinely defended him pretty well and James just wasn't very aggressive in how he attacked the Clippers' defense. You also probably noticed when he checked back into the game, they unwrapped heating pads from his back. 
The reason for the heating pads would be back spasms that he's apparently had for a couple of weeks, according to LeBron after the victory. He said the only way he wouldn't be able to play is if he couldn't get out of bed, but this may be something to track after nearly 300 games the past three seasons. 
LeBron says his back issues have been going on for "a couple weeks," but the only way it'd keep him off the court is if he can't get out bed

— Rachel Nichols (@Rachel__Nichols) November 8, 2013
Coming into the game, you wouldn't have known LeBron's back was ailing him. He was averaging 25.6 points, 8.0 assists, and 5.6 rebounds while shooting 58.0 percent from the field, 50.0 percent from 3-point range, and 80.6 percent from the free throw line. After just 18 points, six assists, and five rebounds against the Clippers, it was clear LeBron wasn't moving like his old self. After diving for a loose ball in Thursday's game, it locked up on him. 
LeBron says he has had a history of back spasms, "but I keep an eye on it."

— Ethan J. Skolnick (@EthanJSkolnick) November 8, 2013
James should be fine but it might behoove the Heat to ride Dwyane Wade right now and sit their star until he doesn't feel it anymore.
The Pacers believe the Lakers tampered with Paul George before they traded him

Among the questionable decisions by Jackson was signing Noah to a long-term, lucrative dea...

This Akron store doesn't want their hometown hero to leave again
Milwaukee's star did not get cleared to play for his national team due to a painful knee i...

Ball, the second overall pick in the NBA Draft, is receiving even more hype

Rap mogul supports the vision the outspoken father has for his brand and sons