LeBron James hasn't attempted a free throw in back-to-back games
For the first time since his rookie season, LeBron James hasn't attempted a single free throw in consecutive games. Weird, right?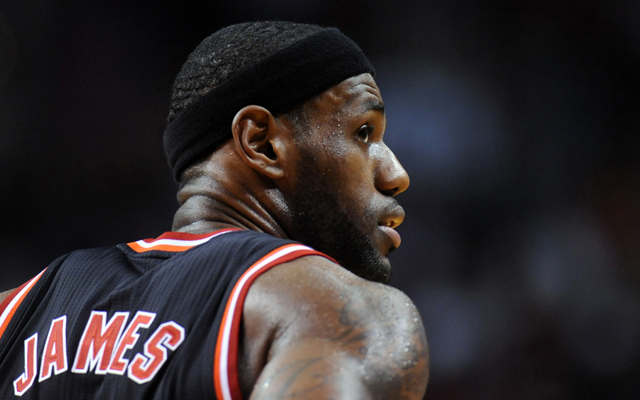 More NBA: Power Rankings | Expert Picks | Latest news, notes
This is weird, right? 
LeBron James had 23 points on 10-15 shooting in a quality get-back-on-track 99-90 win over the Wizards on Monday night. But he didn't go to the free throw line a single time. 
Which followed up his game on Sunday against the Bulls, where he played four quarters and even overtime without taking a free throw. The game Sunday was the first time since 2009 LeBron hadn't attempted a free throw in a game. But now with it happening two straight times, this is the first time it's happened consecutively since 2003, LeBron's rookie season. 
"Very surprised," James told reporters about it. 
One thing LeBron did get back to, though? Making shots outside of the paint. After going 1-23 on jumpers following his 61-point explosion, LeBron knocked down 3-4 from 3. 
Here's a theory as to the recent free throw swoon: LeBron had his nose cracked by Serge Ibaka a couple weeks ago, and had to wear a mask. The last couple games, he's ditched the mask. So maybe there's a little natural hesitance to go stick his nose back in the paint. 
LeBron averages 7.3 free throw attempts per game, placing him eighth in the league. But since he had his nose busted, he's taken just 5.1. 
So with the Heat taking on the Nets on Wednesday, there's something to watch for: LeBron has never gone three straight games without taking a free throw. And I'm thinking it stays that way. 
Thomas spent a day with a 10-year-old girl whose family is also new to Cleveland

Barkley did not hold back with his opinion of the Big Baller Brand patriarch

We have all the latest scores, highlights and news from Wednesday's NBA games
LaVar Ball also made it clear he thinks his sons are being placed in 'a great situation'

The Thunder are just 12-14 on the season, despite the addition of Paul George and Carmelo...

The then-Heat teammates squared off during the 2011 ECF, but Erik Spoelstra put a stop to the...