LeBron James is disgusted he'll miss the Super Bowl
Miami Heat forward LeBron James is mad he won't be able to watch the Super Bowl on Sunday.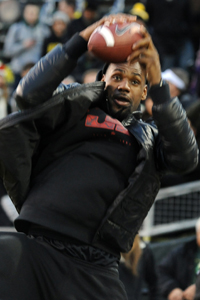 Spoiler alert, LeBron: Ray Lewis will cry.
(Getty Images)
America loves football! It's the number one sport in this country, and the Super Bowl will most likely be the most watched televised sporting event of this year.
Millions upon millions of viewers will tune in, but don't count on LeBron James and his Miami Heat teammates to be part of the viewership. They'll be stuck doing media obligations after their afternoon contest in Toronto against the Raptors on Sunday and then they'll be on a plane headed back to Miami so they can take on the Charlotte Bobcats the next night.
And that irks James, who fancies himself quite the football fan. Via the Sun Sentinel:
 "How disgusting is that?" he said after Wednesday's shootaround at the Barclays Center prior to the game against the Brooklyn Nets.

   The Heat cannot delay their return from Toronto, with a Monday game at American Airlines Arena against the Charlotte Bobcats.

   "If the Cowboys were in the Super Bowl, I'd stay there for the game," he said of his passionate football rooting interest.
I know how LeBron feels. 
Years ago, I was working in a retail store, selling sunglasses, ski jackets and car decals. My boss scheduled me on Super Bowl Sunday and I ended up having to miss the majority of the game because we closed at 6 p.m. and I didn't get out of there until 6:30. By the time I got home, the game was pretty much over (Pacific time), and I had no idea about the cool commercials everybody was talking about.
I was pretty disgusted at the time, too.
The weird thing that comes out of all of this is finding out that the Miami Heat's chartered jet isn't equipped with wireless internet or satellite television. You would think Heat owner Micky Arison, who has made a fortune with Carnival cruises, would know how to outfit a transportation device to please all of his travelers. 
If they had that capability on the chartered jet for the team, they'd at least be able to watch the Super Bowl online and LeBron wouldn't be so grumpy about it. There's always next year, LeBron. 
(H/T - Pro Basketball Talk)
A report last week indicated Charlotte is looking to move Walker, along with one of its hefty...

Barea responds by claiming that none of Wall's teammates like him; the Wizards continue to...

Cousins finished with 44 points, 24 rebounds, and 10 assists
Love left Saturday's game, which the Cavs lost 148-124, due to illness

Kidd was fired by the Bucks on Monday afternoon

We've got all the scores, highlights and news from an NBA Monday