LeBron James is finally the most popular male athlete in America
After reaching the No. 2 spot in the Harris Poll for the most popular male athlete in America last season, LeBron James has finally made it to No. 1.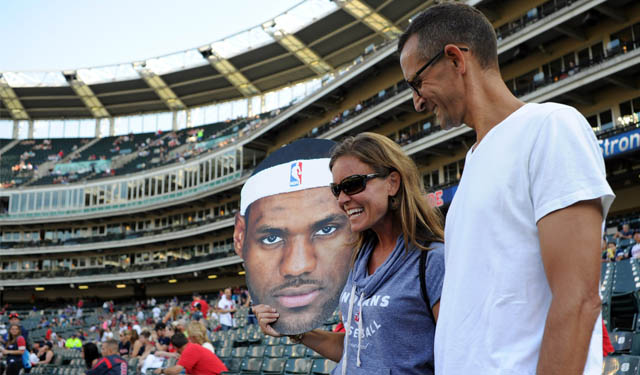 More Offseason Analysis: Coaching changes, news | Free Agency | Draft
The return of LeBron James to the Cleveland Cavaliers has been quite the story over the past week. It's changed the landscape of the NBA, especially in the Eastern Conference in which the Miami Heat have gone from a regular in the NBA Finals now to not knowing how they measure up with the rest of the East. It's also now the home to the most popular male athlete in America.
According to ESPN.com, the Harris Poll has named LeBron as the most popular male athlete in America. Surveying a "representative sample" of people in the United States last month, LeBron came away with the distinction of the most popular. He had previously been the second most popular last season and beat out Charlotte Hornets' owner Michael Jordan.
LeBron James is the most popular male athlete in America for the first time in his career.

So says a new Harris Poll, which surveyed what it says is a representative sample of 2,241 people in the U.S. last month.

James, whose highest ranking was No. 2 last season, topped retired Chicago Bulls star and Charlotte Hornets owner Michael Jordan, who had the distinction of being No. 1 from 1993 through 2005.
James was out of the top 10 back in 2011 after he left Cleveland to go to the NBA Finals. Since that move, he's made the Finals four straight times, won multiple MVP awards, and been a champion twice. It's helped build his brand back up in terms of endearing himself to the public. He'll try to replicate that success back in his home state with a very young Cavaliers team this season. 
Greek Freak scores career-high 44 points and reaches scary level to finish the game

It was an ugly finish as the Warriors fell to 1-2 on the season -- both Curry and Kevin Durant...

Mirotic was hospitalized with facial fractures after an altercation with Portis during pra...
Irving had some choice words for a fan who heckled him in Philadelphia

Several teams were reportedly interested in Nelson after he was waived by the Nuggets

Cousins got into a heated exchange with a fan during the Pelicans' season opener