LeBron James is working on a skyhook, so that's fun
Miami star finally gets the point about dominating in the post. Now, he's working on perfecting the skyhook made famous by Kareem Abdul-Jabbar.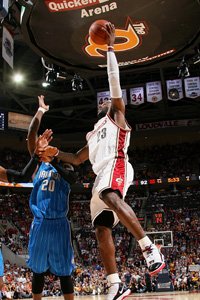 James is developing a skyhook.
(Getty Images)
When LeBron James went to the post last postseason, a light turned on. "Oh, it turns out that being the most physically superior being in the NBA, as well as the most skilled, means I can dominate in the post!" he seemed to say. 
The rest of us nodded as if to say "Ya think?" 
People have said for years that James should go to the block. That belief turned out as well as theorized last postseason. But now James is looking to go to the next level. And he's working on adding a classic move to the repertoire. 
A year ago, LeBron James adopted elements of Hakeem Olajuwon's Dream Shake. This time around, the Miami Heat star forward is implementing Kareem Abdul-Jabbar's patented skyhook.

"I'll be down here even more this year," James shouted through near exhaustion as he wrapped up the extended workout. "Might as well keep getting more comfortable."
via James tinkering with new signature move - Heat Index Blog - ESPN.
It is, without question, the most unstoppable shot in basketball, even if James isn't at 7 feet tall when he launches. Even a standard hook shot would be a game changer, allowing James to score without going to the twisting fadeaway. Not that he's not great at that shot, but he should save it for when the double comes if he can't pass out. 
James developing an already deadly set of post moves is scary for opponents. The Heat are opting for smallball again this year. But with James playing more at power forward, it won't feel like smallball. Don't expect to see it as much in the regular season, though. It's more likely James will save it for the postseason and rely on his perimeter skills to save his body during the 82-game grind. 
But it's things like this that make James the MVP favorite yet again.
We've got all the scores, highlights and news from all of Sunday's games

The Rockets beat the Warriors 116-108 on Saturday night

The Cavaliers gave up 148 points in their loss Saturday afternoon to the Thunder
Blatt made the comment before coaching in the All-Star Game in Turkey

Is this rock bottom for the Cavaliers because it sure feels like it is

Wade, as he's done so many times in his career, threw it up to LeBron for the thunderous f...