LeBron James, Kevin Durant lead All-NBA first team
LeBron James was unanimously voted first-team All-NBA as Kobe Bryant picked up his eighth straight such selection.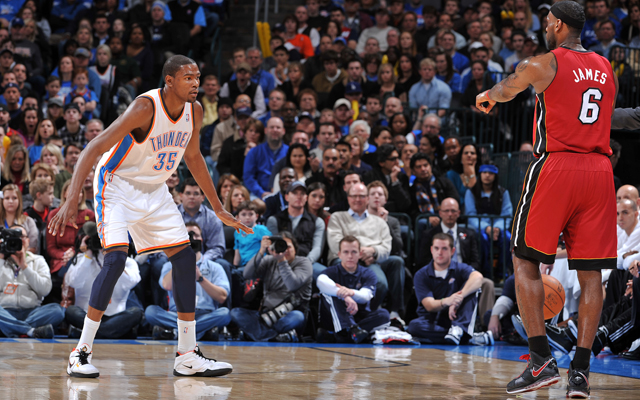 Leading the way for the NBA's prestigious All-NBA teams are LeBron James and Kevin Durant . 
The league announced all three teams on Thursday with James and Durant being joined by Chris Paul , Kobe Bryant and Tim Duncan on the first team. 
Second-team: Russell Westbrook , Tony Parker , Carmelo Anthony , Blake Griffin and Marc Gasol . 
Third-team: Dwyane Wade , James Harden , Paul George , David Lee and Dwight Howard . 
Kobe's first-team selection is his 11th overall, tying him with Karl Malone for the most all time. It's Kobe's eight consecutive first-team selection. Duncan's first-team selection is his first since 2007, also when the Spurs won their most recent title. 
LeBron received 119 out of 119 possible first-team votes. Durant was second, receiving 102 out of 119. The media votes on All-NBA teams. 
Not too many qualms here, outside of maybe Stephen Curry being left off all three teams. But, then again, this was for the regular season and not the postseason. You could make a case for Westbrook as a first-teamer, but it's not a air tight. Joakim Noah was probably more deserving of third-team center than Howard, and Mike Conley definitely deserved more votes. Oh, and who in the word gave a third-team vote to JJ Hickson ?
Here are the full results:
ALL-NBA FIRST TEAM
LeBron James, Miami: (119 votes) 595 points
Kevin Durant, Oklahoma City: (102) 555
Tim Duncan, San Antonio: (45) 392
Kobe Bryant, LA Lakers: (91) 521
Chris Paul, LA Clippers: (97) 537
ALL-NBA SECOND TEAM
Carmelo Anthony, New York: (24) 397
Blake Griffin, LA Clippers: 132
Marc Gasol, Memphis: (38) 295
Tony Parker, San Antonio: (16) 273
Russell Westbrook, Oklahoma City: (20) 306
ALL-NBA THIRD TEAM
David Lee, Golden State: 79
Paul George, Indiana: 73
Dwight Howard, LA Lakers: (17) 203
Dwyane Wade, Miami: (3) 145
James Harden, Houston: (5) 253
Also receiving votes, with point totals: Brook Lopez , Brooklyn, 132 (7 First Team votes); Stephen Curry, Golden State, 72; LaMarcus Aldridge , Portland, 62; Chris Bosh , Miami, 59 (4); Joakim Noah, Chicago, 56 (3); Zach Randolph , Memphis, 45; Al Horford , Atlanta, 31 (2); Paul Pierce , Boston, 24; Al Jefferson , Utah, 20 (1); Tyson Chandler , New York, 19 (1); Roy Hibbert , Indiana, 9; Luol Deng , Chicago, 8; Kevin Garnett , Boston, 8; Ty Lawson , Denver, 8; Josh Smith , Atlanta, 7; Deron Williams , Brooklyn, 6; Pau Gasol , LA Lakers, 4; Serge Ibaka , Oklahoma City, 4; Omer Asik , Houston, 3; Kenneth Faried , Denver, 3; Raymond Felton , New York, 3; Kyrie Irving , Cleveland, 3; Carlos Boozer , Chicago, 2; Mike Conley, Memphis, 2; David West , Indiana, 2; Rudy Gay , Toronto, 1; JJ Hickson, Portland, 1; Andre Iguodala , Denver, 1; Dirk Nowitzki , Dallas, 1; Nikola Pekovic , Minnesota, 1; Rajon Rondo , Boston, 1; Nikola Vucevic , Orlando, 1.
George suffered a similar injury in 2014, and immediately offered Hayward encouragement

A certified athletic trainer says Hayward is 'hard-pressed to get back this season'

The two have been trained together in the past and still keep in regular contact
Anthony opened up about finally leaving New York after years of rumors

Jonah Keri talks to with Ringer author, and Grantland alum Shea Serrano

Green left the Warriors' opening night game vs. Houston with what the team is calling a knee...