LeBron James made no counters to Heat; done with team meetings
LeBron James made no counterproposals on contract length to Heat president Pat Riley on Wednesday and has no meetings set with other teams, league sources told CBSSports.com.
Doyel: LeBron owes Cleveland answer | Heat make their pitch | Latest FA news
The odyssey that is LeBron James' grown-up version of free agency hits its ninth day Wednesday with no resolution -- only a deepening sense that the finish line is near.
Oh, and one more thing: Everyone, given the choice, presumably would opt for LeBron's immature version of free agency from four years ago. At least that was over fast.
Here's what we know: James and his agent, Rich Paul, met with Heat president Pat Riley and assistant GM Andy Elisburg Wednesday in Las Vegas for about an hour. James gave the Heat no commitment on a new contract with the team, and didn't say no, either. As of Wednesday night -- about 90 minutes before free agents could begin officially signing new contracts -- James had no meetings set with any other teams, league sources said.
Now, James wants to weigh all the information that has been put in front of him with his family, a person familiar with his strategy said. 
But what is he weighing, exactly? The Heat's roster currently consists of Norris Cole, Justin Hamilton, Shabazz Napier and, once they officially sign, Josh McRoberts and Danny Granger. Dwyane Wade has not been heard from, though he has dined and worked out with James in Las Vegas this week. Chris Bosh, as was evident all along, will have other options if the Big Three scatter after four straight Finals appearances and two championships in Miami.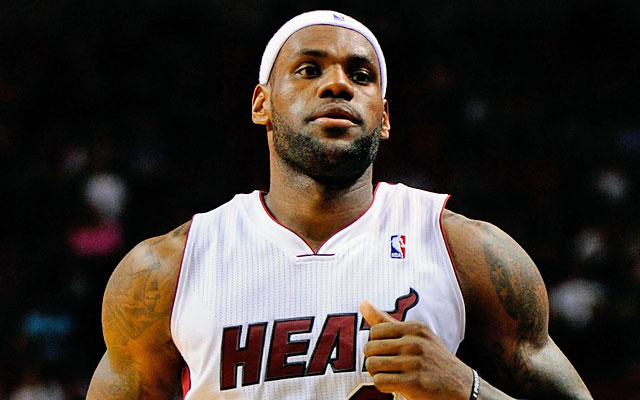 A key point is that James did not propose any alternate arrangement to Riley -- such as a shorter max contract with the Heat -- in their meeting Wednesday, a person briefed on the matter said. It is possible that he'll do so after further deliberation, but he didn't on Wednesday.
As far as what he could be weighing from the other teams without even meeting with them, the person briefed on the matter said those details -- including the well-known parameters of the max offers on the table and the roster composition surrounding James -- were gathered by Paul, which is sort of his job. 
So in essence, James has all the information he needs to make his decision. He just hasn't made one or communicated it to anyone yet.
The clock, clearly, is ticking. Intrigue over Bosh's situation deepened Wednesday as the Rockets braced for a three-year, $46 million offer sheet from the Mavericks for their prized restricted free agent, Chandler Parsons. Once the offer sheet is signed -- likely on Thursday -- Houston would have three days to match. The Rockets also are contemplating a four-year, $88.4 million arrangement with Bosh.
The Cavs -- who, along with the Rockets, Mavs, Lakers and Suns have spoken with James' agent -- cleared the final swath of cap space needed to fit James into the new leaguewide max established Wednesday of $20.64 million. They did so by dumping Jarrett Jack, Tyler Zeller and Sergey Karasev in a three-way trade with Brooklyn and Boston.
Cleveland GM David Griffin also is working to pull off a trade for Minnesota's Kevin Love, contingent on James going to Cleveland. That outcome -- James returning to the city that he spurned four years ago -- is the only way that Love, a free agent in 2016, would be amenable to such a deal.
Meanwhile, something has been lost in the analysis of what James might do -- other than the fact that "he doesn't know what he's going to do," one of the people with knowledge of his situation said. And that is, what it always is: money.
Whereas Carmelo Anthony's free-agency decision has been forever portrayed simply as a calculation of how much money he'd be leaving on the table to leave the Knicks (the New York Daily News reported Wednesday he's staying, though his agent says no decision has been made yet), James' decision is analyzed in terms of intangibles. Though contract length is not a deal-breaker for James, who would have an opt-out in the deal as he did in the one he signed four years ago with the Heat, let's not forget: He's eligible for a five-year, $119 million deal with Miami. With Cleveland, or with any other team with max space on its books for next season, he can only get four years, $88.4 million.
Something tells me that comes up in the conversation with the family, which for everyone's sake we hope is a quick one.
The entire NBA, meanwhile, has a new free-agency timetable: LeBron time.
Both conferences seem dead even right now

SportsLine's Mike McClure, a DFS pro with more than $1M in winnings, gives optimal lineup...

Cheese Chisholm and Jet Rivers said they'd be happy to welcome the Ball brothers as teamma...
SportsLine's advanced computer model simulated Monday night's Celtics-Pacers game 10,000 t...

Kerr also chimed in on what an MJ vs. Kobe one-on-one game might look like

The former NBA player plans on making more money in retirement than he did while playing