LeBron James makes postseason history
Miami's LeBron James is the third player to compile 4,000 points, 1,000 assists and 1,000 rebounds in the playoffs.
• 1 min read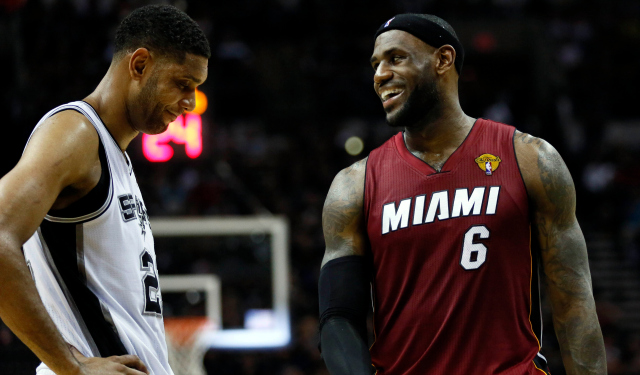 More Game 1: Ginobili vs. Wade | Duncan leads Spurs
About seven minutes into Thursday's Game 1 of the NBA Finals, LeBron James assisted on a Dwyane Wade midrange jumper. It was a routine play for the Miami Heat stars, but it had historical significance. James needed just one assist to reach 1,000 in his postseason career, and that number put him in exclusive company.
Only James, Michael Jordan and Kobe Bryant have 4,000 points, 1,000 rebounds and 1,000 assists in the playoffs. That is the entire list.
James needed 154 playoff games to reach the milestone. 
The investigation detailed a hostile workplace environment

Cousins suffered a torn Achilles tendon on Jan. 26, and will miss the rest of the season

Ingram has become one of the team's go-to players with Lonzo Ball sidelined with an injury
Giannis skipped EuroBasket last summer, and has missed four games this season with knee so...

Some of the best and worst from the league as we head into the home stretch of the season

Cuban acknowledged that tanking is 'brutal' and that he will no longer do that after this...