LeBron James: Miami Heat growing weary in quest for three-peat
NEW YORK -- After two straight losses to bottom-dwelling teams in New York, LeBron James said the Miami Heat are mentally and physically tired as they chase a third straight championship.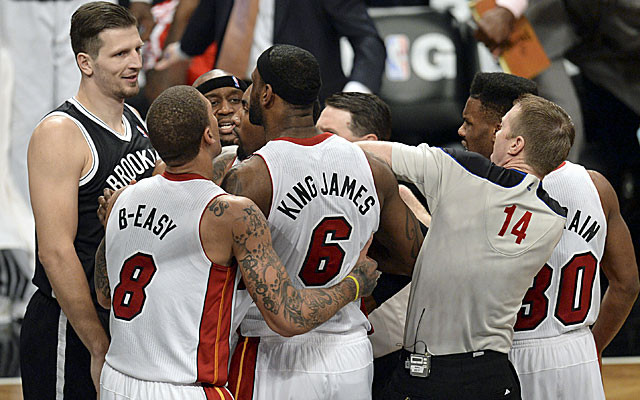 NEW YORK -- Plenty of punch lines were there for the taking after the Heat's second-straight loss (each in a different borough), such as this: Andrei Kirilenko's nickname on the back of his jersey should've been, "Flopper," according to LeBron James.
The Heat and Nets wore nicknames on their backs Friday night as part of the NBA's scheme to sell more jerseys, but before we get to that, a comment from "King James" after the Heat's 104-95 double-overtime loss to the Nets is worth noting.
Basically, it's not even February yet and the Heat already are weary -- mentally and physically -- from their chase for a third straight title.
"It's a long and grueling season for all of us, not just us because we're the champs," James said after fouling out for only the sixth time in his career and the first time in a regular season game since 2008. "We've played a lot of basketball in our four years together. It's taken a lot of wear and tear on all our bodies. It's mentally fatiguing. And you just try to find the motivation the best way you can as an individual and as a collective group."
They didn't find it on this trip to New York, where they lost to the Knicks at Madison Square Garden on Thursday night and then fell in Brooklyn. Miami was without three starters due to injuries: Dwyane Wade missed his eighth game due to knee soreness (he also missed one due to illness), and Mario Chalmers (Achilles tendonitis) and Shane Battier (bruised quad) also were out.
"We're banged up right now," James said. "We're not an excuse team right now, but we've got three starters [out]. And even though we've got a lot of depth, it's hard to make up for three starters being out, so we could all use a break for sure."
James will get his wish. The Heat will return to Miami and won't practice for the next two days. Then, it's another trip to the White House on Tuesday followed by a game against the Wizards on Wednesday night.
The Heat's performance wasn't as skittish as the one they served up the previous night in Manhattan -- "That was our alter ego," a team source said -- but there was still enough frustration to go around. James said his body language was "all wrong" in the first half, and he apologized to his teammates at halftime. A flagrant foul he absorbed from Mirza Teletovic fired up the four-time MVP, but after fouling out with 36 seconds left in the first OT, James had to watch the rest from the bench.
"He went around the neck; that was my neck," James said. "It's not a basketball play."
James said he never heard the whistle for a subsequent offensive foul that had been called on him against Kirilenko, who was chasing James down as he drove to the rim.
"I thought Kirilenko flopped a few times, to be honest about it," James said. "He flopped a few times and he got the call. I thought the last one that fouled me out, that could've been a charge for sure. He was trying to put his hands on me as I drove and that's' what got him off balance and he was able to get the call. But Kirilenko flopped on me a couple of times."
One thing's for sure: This trip to New York for the Heat -- billed before the season as a highlight on the NBA calendar -- was a flop. And from the way James was talking on Friday night, the Heat -- like many New Yorkers -- could use a vacation in Miami.
CBS Sports HQ Daily Newsletter
Get the best highlights and stories - yeah, just the good stuff handpicked by our team to start your day.
Please check the opt-in box to acknowledge that you would like to subscribe.
Thanks for signing up!
Keep an eye on your inbox for the latest sports news.
Sorry!
There was an error processing your subscription.
There are just three games on this Tuesday night, but some big stars are in action

Walton, whose new-look Lakers have started off 0-3, is followed by Tom Thibodeau (Wolves) and...

Rondo spoke in detail about the incident that earned him a three-game suspension
Kobe stans will never give LeBron the credit he deserves during his time in L.A.

The newest Golden State Warriors star hasn't seen the court since January after tearing his...