LeBron James named 2013 AP Male Athlete of the Year
LeBron James was awarded the AP athlete of year award on Thursday.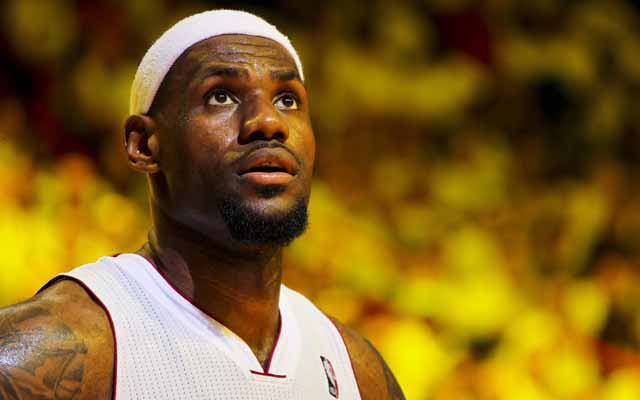 LeBron James has basically won everything the past two years. So it's not surprising that he's taking home yet another piece of hardware.
The Associated Press announced Thursday that LeBron is their 2013 Male Athlete of the Year, becoming just the third basketball player since 1931 to win the award (Michael Jordan and Larry Bird).
LeBron received 31 of 96 votes, topping Peyton Manning (20 votes) and NASCAR driver Jimmie Johnson (7 votes).
"I'm chasing something and it's bigger than me as a basketball player," LeBron told the AP. "I believe my calling is much higher than being a basketball player. I can inspire people. Youth is huge to me. If I can get kids to look at me as a role model, as a leader, a superhero ... those things mean so much, and that's what I think I was built for. I was put here for this lovely game of basketball, but I don't think this is the biggest role that I'm going to have."
LeBron also tweeted on Thursday:
It's an HONOR to be name @AP Male Athlete of the Year!! Thanks so much!! #StrivingForGreatness

— LeBron James (@KingJames) December 26, 2013
Past winners include Jesse Owens, Tiger Woods, Muhammad Ali, Joe Montana and Michael Phelps. 
LeBron's achievements in 2013 included a fourth MVP award, and a second consecutive NBA championship. Oh, and he also got married. 
Not a bad year, LeBron. 
Kevin Durant says he doesn't agree with what President Donald Trump agrees with

Evaluating where the future Hall of Famer might land up if he is freed from Chicago's rebuilding...

Adam Silver said his piece with the schedule out; we address that and what the slate looks...
The Hawks and Sharecare reportedly agreed to terms on a five-year deal

A look at the context of the schedule and who plays who when, and how far they travel during...

Durant took on rapper Lil Dicky and actually might have lost