LeBron James on Mavs: 'The reason why I am who I am today'
Miami Heat star LeBron James says the Dallas Mavericks, and their 2011 title over his team, are the reason he is who he is today.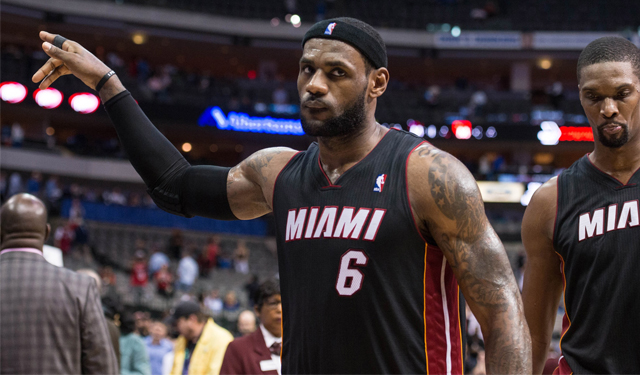 LeBron James of 2014 is a lot different than LeBron James of 2011. Back then, there were still doubts in the public's eye about what exactly he was and what he could become. We knew he was great, whether all of us wanted to admit it out loud or not. But he needed to "prove himself" by continually rising to the occasion and bringing home at least one championship. It's just how the pro sporting world is.
He teamed up, he faced scrutiny for how he teamed up, and then he faced the 2011 Dallas Mavericks in the 2011 NBA Finals. Six games later, the Mavericks had humbled him by playing the ultimate team basketball surrounding their fearless superstar, Dirk Nowitzki. The first round of the experiment for James' new era in the NBA had failed and he had to figure out why it failed, as to not face this kind of ridicule once again. He needed to reset his mind and go deeper into honing his skill set. 
That's exactly what he did. 
Bryan Gutierrez of MavsOutsider.com tweeted out comments from James looking back on what the loss to the Mavericks meant to him. It caused him to look deeper at himself and figure out a way to get better because what was happening kept failing. He credits Dallas for making him the player he is today:
"This team has been a reason why I am who I am today. Because they beat us. When they beat us, I went into a place I haven't been before in a long time. I went back to the fundamentals of the game. I went back to breaking down every aspect of my game to get better because I didn't perform at the level I know I could have or should have during those Finals.

The Mavericks are probably the reason why I am who I am today."
The player he is today is a stunning combination of power, grace, and skill. He overpowers opponents anywhere on the floor when he needs to. He has incredible touch around the basket, through contact, on a midrange jumper, and on a 3-point shot that has become far more reliable than seems fair. He's a two-time champion now and his last two MVP awards haven't been close.
Tuesday night, James was in Dallas to face the Mavericks. He dropped his season-high for points with 42 on 16-of-23 shooting with an array of highlights that made it seem like he had an open lane to the basket whenever he wanted. 
If the Heat go on to win their third straight NBA championship, there will be a lot of people that deserve credit. The coaches, the front office, the training staff, James, his teammates, and a lot of people who have helped them get to this point in their lives and careers, where they can succeed like so few teams in NBA history have managed to do. But don't forget to give a nod to the Dallas Mavericks' organization for helping James realize what he needed to become.
Jordan Bell had himself a night against Portland

The younger Ball brothers are heading to BC Prienai, but that could spell trouble

Not many games, but still plenty of action and intrigue Monday in the Association
SportsLine's advanced computer model simulated Tuesday night's Lakers-Knicks game 10,000 t...

The Reno Aces are concerned about the new WNBA franchise stealing their thunder

Hinkie parted ways with the 76ers in 2016 after drastically changing the direction of the...