LeBron James on Spurs: 'They wanted us, they got us'
Heat star says the Spurs don't like Miami as both teams prepare for the Finals.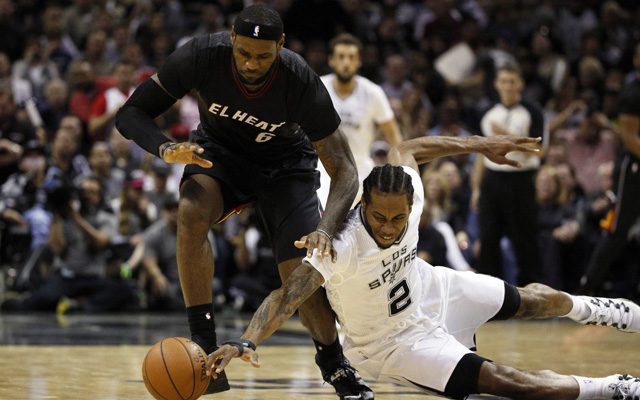 More Offseason Analysis: Coaching changes, news | Free Agency | Draft
LeBron James and the Heat spoke with reporters after practice Monday, four days before the start of the NBA Finals in San Antonio. After Tim Duncan told reporters on Saturday "We wanted Miami" for the rematch of last year's Finals, James responded pretty simply Monday: 
LeBron on Spurs: "They wanted us. They got us."

— Ethan J. Skolnick (@EthanJSkolnick) June 2, 2014
That's a simple declarative fact, when taken out of context. But it's also very much an indication that after last year's harrowing series between the two, it's not like either team is a fan of the other. Or, as James put it:
LeBron on Spurs: "They don't like us. I can sense that from Tim's comments the past couple days."

— Ethan J. Skolnick (@EthanJSkolnick) June 2, 2014
It's an interesting approach from James. One of the major issues for opponents is that the Spurs do things the right way, nearly all the time, and the league has so much respect for them that it's hard to get an emotional edge against them. Both the Grizzlies in 2013 and the Blazers this season admitted having similar problems finding an edge against a team that just goes out and beats you.
James and the Heat also find themselves as underdogs in this series, so there looks to be quite a bit of emotional ampage going into the Heat's preparation. 
This should be fun. Game 1 is Thursday, June 5, at 9 p.m. ET on ABC. 
Stephen Curry, who grew up in North Carolina, wants to be part of the next Panthers ownership...

Vince Carter is destined for a Raptors reunion; he doesn't know when it'll happen

Thomas has a target date for his return, and with the Cavaliers scorching, this could be h...
LeBron James once again is using his platform to be socially active

Not many games, but still plenty of action and intrigue Sunday in the Association

Kobe Bryant had a solid piece of advice for back in 2016 when he left OKC for Golden State