LeBron James, Pat Riley planning sitdown to discuss free agency
LeBron James and Pat Riley are on the verge of a face-to-face meeting to discuss the superstar's free agency, a league source confirmed to CBSSports.com Sunday night.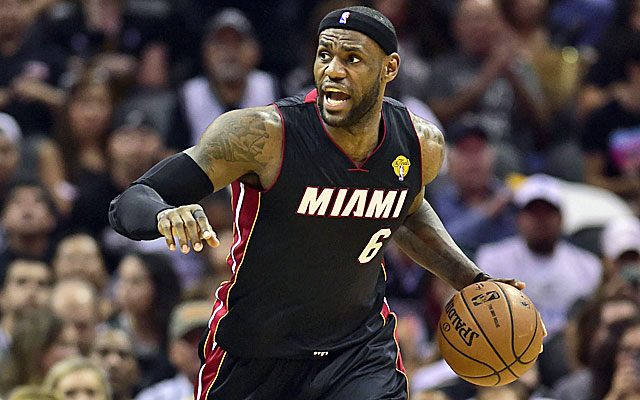 More on LeBron: James' free agency page | Doyel: NBA revolves around LeBron
LeBron James and Pat Riley are on the verge of a face-to-face meeting to discuss the superstar's free agency, a league source confirmed to CBSSports.com on Sunday night.
James and his agent, Rich Paul, are working to schedule the sitdown with the Heat president in the next two or three days days, said the person familiar with the details. USA Today first reported the plans.
With James weighing his free-agent options, and with uncertainty about the futures of fellow free agents Dwyane Wade and Chris Bosh, James and Riley have much to discuss -- and in some ways, not much at all. Given the team's salary-cap constraints, Riley has thus far been unable to secure any roster additions that would enhance the team's chances of keeping the Big Three together.
In the meantime, James' agent has spoken with the Rockets, Mavericks, Lakers, Cavaliers and Suns as he gathers information for the four-time MVP. Teams that have had discussions with James' agent have been told that James may be prepared to meet with them in person this week.
It was a wild weekend in the free-agent pursuits of Miami's Big Three and the Knicks' Carmelo Anthony, and nothing has even happened yet. Basketball's social media machine was aflame with rumors of a supposed pickup game involving Anthony, Kobe Bryant and Kevin Love at UCLA (never confirmed), and the tracking of Cavs owner Dan Gilbert's private jet, which was traced to South Florida and spotted at an airport there by reporters.
Miami's efforts to retain the Big Three center first and foremost on James, who is the only person who truly knows what his decision will be -- and who still faces too many unknowns to make one yet. The biggest obstacle, according to multiple league sources, has been Riley's inability to make concrete offers to free agents because he doesn't yet know what the Big Three's salary structure will be if they all come back.
An update from Riley, though, is a key point James needs clarified before he can proceed -- that, and the inflow of information from other suitors on what their vision and plan would be for a team built around James.
As CBSSports.com reported Saturday, Bosh's situation has become a key tipping point in Riley's plan to keep the Big Three together. Given the number of teams chasing James and Anthony in free agency, the ones that fail to secure either one have Bosh at the top of their list as a backup plan -- creating a max market, or close to it, for the third leg of Miami's triumvirate. Bosh is said to prefer the four-year, $96 million deal he could get from another team to the kind of paycut that would be required to keep the Big Three together in Miami and secure reinforcements through free agency.
The Rockets, Lakers and Mavericks all are believed to be prepared to proceed with a serious pursuit of Bosh if their top targets go elsewhere. ESPN.com reported Sunday that Houston is "heavily engaged" in trying to get Bosh to leave Miami and join Dwight Howard and James Harden. As with Anthony or James, such a move would necessitate trading Jeremy Lin, whose $15 million cash payout next season will require a huge incentive to unload.
The Cavaliers, meanwhile, have engaged several teams in trying to find a taker for contracts in a possible multiteam trade in which they would dump Jarrett Jack's $6.3 million salary to clear a max free-agent slot, league sources told CBSSports.com. In one such scenario, according to Yahoo Sports, the Cavs would send Jack to the Nets while trying to find a third team to take Marcus Thornton, who is owed $8.6 million next season.
The Cavs' pursuit of a max slot, coupled with the breathless tracking of Gilbert's jet on Sunday, set up a crescendo of anticipation in Cleveland that James would consider returning home four years after he left for Miami in the ill-fated "Decision." But as we've already noted, this decision for James will be one with a lower-case "d," despite all the craziness that is only just beginning to build.
Right before Wiggins hit his shot, Carmelo Anthony hit a 3 to put the Thunder in front

The Suns firing Earl Watson three games into season is second-quickest firing in NBA histo...

Bledsoe tweeted, "I Dont wanna be here"
Giannis had his hand on McCollum's hip when he poked the ball away

Teodosic had to leave the Clippers' game Saturday night against the Suns

Irving said recently that he does not regret the profane outburst