LeBron James says he doesn't plan to take any remaining games off
Heat star plans to play in every game to finish the season as Miami tries to lock up the No. 1 seed in the East.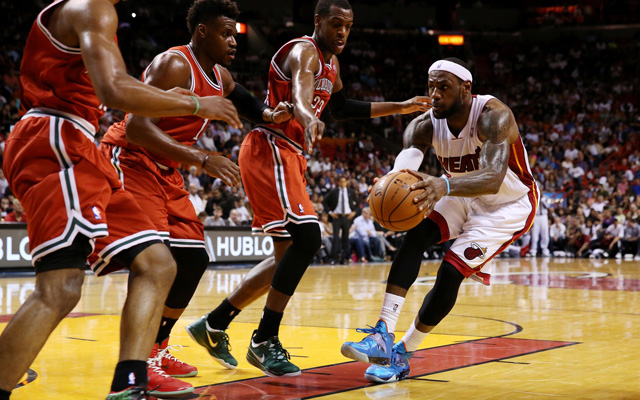 More NBA: Power Rankings | Expert Picks | Latest news, notes
LeBron James told reporters Wednesday that he doesn't plan to take any games off for the Miami Heat before the end of the regular season to rest. 
James says he plans on playing the remaining eight games as long as he stays healthy. After making that statement, he promptly "knocked on wood" at his locker with hopes of avoiding injury."I have no choice," James said. "I don't plan on sitting out any of these eight games unless something happens. I'm going to be in the lineup."
via Miami Heat: Forward LeBron James says he play all the remaining regular season games - Sun Sentinel.
The Heat have a half-game lead on Indiana for the No. 1 seed in the Eastern Conference. They face one another April 11th in what could decide home court advantage between the two. Indiana has a relatively soft schedule coming up with Atlanta and Milwaukee around a game in Toronto. 
So the Heat could use James to lock this thing up. Then again, worrying about such things has never been their M.O.. After all, they're unlikely to catch San Antonio so there's a good chance that if they get past the Pacers they'll still be on the road. They don't lack for confidence in taking a series without home court. 
Meanwhile, James has had more minor injuries this year than normal. His troublesome elbow flared up, he's had significant problems with his back, and he broke his nose earlier this season. I wouldn't be surprised if despite what James says, he misses a few, especially if the Heat get some distance on Indiana for the top spot. 
Meanwhile, Ray Allen was back with the team after missing nealy a week with both stomach and head viruses. Allen's probably going to be drained or a while, and Dwyane Wade will likely take some games off to rest up. This further complicates things with James. Not only is he playing through, but he's going to shoulder the load with Wade and Allen likely taking time off? 
It's something to watch as we get closer to the playoffs. 
Kyrie Irving created a movement -- but even he had no way of knowing the damage he could d...

Parsons, a Magic fan growing up, says his situation in Memphis with the injuries and big contract...

The Kings' big man says he was wrongfully arrested in August for possessing marijuana with...
George appeared to show some frustration with the Pacers following the trade to OKC

It's worth wondering whether or not Wade will be in the Cavs' starting lineup

Nurkic is confident Portland will be a tough team to beat, and says it must begin on defen...