LeBron James says he's jealous of Kevin Durant's shots
Heat star says he wonders how many he could score if he decided to take more shots.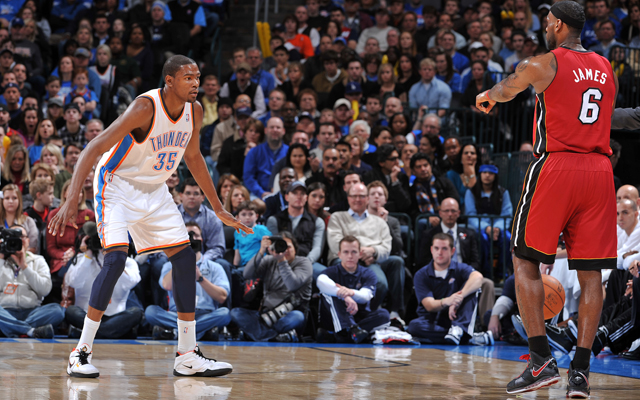 In an interview with ESPN, Miami Heat star LeBron James said that he's jealous of the number of shots Kevin Durant gets to take for the Thunder. 
"I get jealous sometimes when I look over at KD and he's like 16-for-32 (from the field) and then 14-for-34. ... Man," James told ESPN.com's Tom Haberstroh.

While the Miami Heat star is shooting a career-high 59.1 percent from the field this season, he is tied for just 18th in the league in field goal attempts (580) with an average of 16.1 per game.

With that kind of efficiency, James could stand to take more shots but explained, "I'm not much of a forced-shot guy.

"But there are games where I have it going, and then at the end of the game, I'm like, damn, I shot just 12-for-16? Why don't I get up at least six or seven more? I definitely notice it."

"First of all, you have to have an unbelievable mindset to get up 30 shots," James said. "I always think about it, though. If I get up high-20s, 30 shots a game, what could I do today, with the way I'm playing?"
via LeBron James of Miami Heat 'jealous' of Kevin Durant's shot attempts - ESPN.
So how much does Durant shoot, exactly? 
According to NBA.com, Durant produces 35.8 percent of all Thunder points. James produces 32.4 percent. So a 3.4 percent difference. That's what happens when you play at a faster pace. There's actually not much difference in the amount James scores vs. Durant. Durant takes 30.1 percent of all field goal attempts, while James takes 28.3 percent. This isn't some insurmountable gap. 
Furthermore, if James really wanted to take more shots ... who's stopping him? It's not like he couldn't dabble in heavy-usage scoring and then switch back when the playoffs came around. Larry Bird was famous for things like this, deciding how to play on any given night just to not get bored. 
Who's realistically going to tell LeBron James, "Hey, don't shoot so much, buddy?" 
But he can't. He's not built that way. And in a lot of ways, it's the difference between he and Durant and why he's won so many MVPs. But could this convince James to make a run at heavy scoring? It'd be fun to see. 
A relevant note to that: KD's had six games of 30+ shots in his career. LeBron has had 24 (though just two since joining the Heat).

— Royce Young (@royceyoung) January 14, 2014
So
T.J. Warren gets paid big money by the Suns in a four-year deal

Melo didn't hold back on his feelings about President Donald Trump and urges for help in Puerto...

The Wizards star says the NFL won't change until important players like Brady and Rodgers speak...
Popovich spoke at length about sports, race, culture, and politics during Spurs media day on...

Carmelo Anthony finds the idea of coming off the bench very funny

Several teams spoke about Trump's recent comments about protests and the Warriors' White House...