LeBron James says he's 'ready' for Game 2
Heat forward admits he's not 100 percent "normal" but is ready to play vs. San Antonio.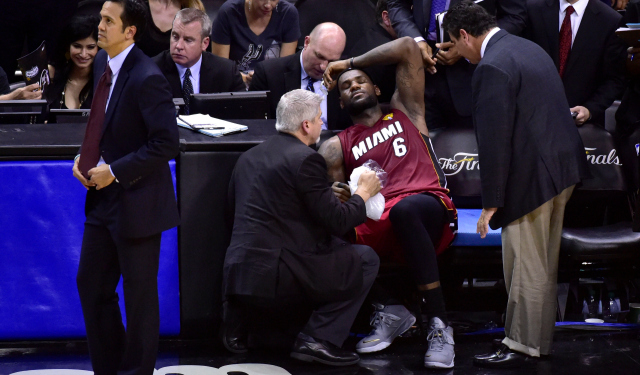 More NBA Finals: Schedule, results | Game 2 previews
SAN ANTONIO -- After suffering from severe cramps in Game 1 of the NBA Finals vs. San Antonio, LeBron James told reporters Sunday before Game 2 (follow the action here) that he's "good to go" for Game 2, but acknowledged that he doesn't feel "normal."
James said that he still felt the effect of the cramps tied to dehydration after the AT&T Center's air conditioning failed in Game 1, but that by Saturday he had returned to his normal routine. James said he hadn't done anything different from his normal routine in the two days since spending most of Friday recovering. 
When coach Erik Spoelstra was asked about any possible restrictions on James, Spoelstra said he wasn't sure. 
"Not sure.  I'm open to it.  I'll read it," he said. "Obviously we'll be attentive to it, and if we need to go deeper, we will.  Anticipate we might have to. "
Westbrook's late layup gave the Thunder a 109-108 victory

LeBron became the seventh player in league history to reach the milestone

There were a few things that stood out from Tuesday's All-Star selections
Here are three players from each conference who had legitimate claims to make the game

LeBron achieved the milestone in the first quarter Tuesday

Here are the full lineups for the 2018 NBA All-Star Game