LeBron James thinks Brown didn't get a fair shake, Aldridge hints Kobe behind firing
LeBron James doesn't think his former coach got a "fair shake" with the Lakers.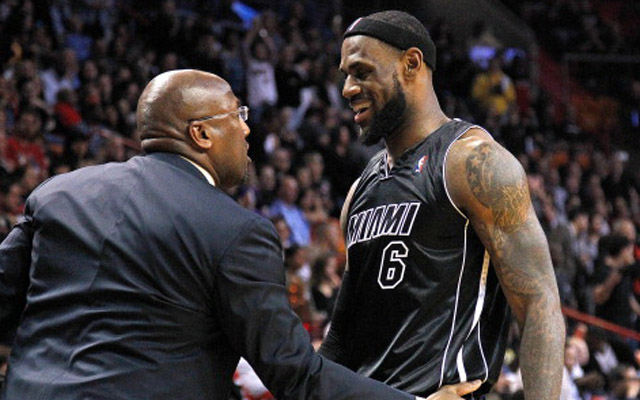 LeBron stuck up for his old coach.
(Getty Images)
LeBron James is very familiar with Mike Brown. He played for him in Cleveland for most of his career. And upon the summer of LeBron's imminent departure in the wake of the decision, in an effort to convince him to stay, Brown was fired as Cavs coach. The perception has always been strong that James was responsible for that decision, that were he to return to Cleveland, there would have to be a new coach. 
James has, from time to time, defended Brown publicly, and Brown, for his part, has hinted that while Kobe Bryant's work ethic is superior (and who is it not to?), he had nothing bad to say about James. After the Lakers fired Brown on Friday, James began to tell reporters why he didn't feel it was fair before PR cut him off. From ESPN: 
"I think it's unfortunate," James said Friday after the Heat's win in Atlanta against the Hawks. "I just don't think he got a fair shake, honestly. With the shortened season last year, and five games into this year, he didn't really get a full season."

...
"I've got a lot to say, but I'm not going to say it right now," said James, who won two of his three league MVP awards under Brown in Cleveland and also led the Cavaliers to the 2007 NBA Finals. "I wish him the best, but I just think it's unfortunate and it's just, you know, how the league is. They can do what they want to do."
via LeBron James says Mike Brown didn't get 'fair shake' from Los Angeles Lakers - ESPN.
That's certainly interesting. 
While it's true Brown did come into rough situations (which we talked about here), this was also unavoidable, given the start. You just can't have this team and go 1-4 and surivive it. We thought ownership would be more patient. We were wrong. 
James isn't the only one talking about what happened. Check out this quote from the Oregonian by LaMarcus Aldridge: 
"I don't know what to say -- if Kobe isn't happy, then that's tough," Aldridge said. "I have been getting word that he wasn't happy with how things were going, and if he's not happy, then your chances there are pretty slim -- as we saw with Shaq.  … Everybody talks around the league, and there was talk that he wasn't happy. "
via Blazers practice report: Terry Stotts, LaMarcus Aldridge on Lakers' firing of Mike Brown | OregonLive.com.
Kobe told reporters just this week that he's been Brown's staunchest reporter, but the frustration from him was visible after the loss to Utah this week. Bryant doesn't run the organization, the Lakers have made that clear. But after not clearing the decisions with him and seeing the result, the Lakers were smart enough to correct course to make him happy, and that's likely a big reason why Phil Jackson is in all likelihood headed back to his big chair at Staples. 
LaVar said Lonzo won't lose again this week, and Marcin Gortat found that pretty funny

Eric Bledsoe is going to be traded at some point and these tweets will explain how it got...

Curry's outburst will cost him some money, but he won't miss any games
A look at the ups and downs for various suitors as Bledsoe has left the team.

Mike McClure, a DFS pro with more than $1M in winnings, gives optimal DraftKings and FanDuel...

Eric Bledsoe will not be playing against the Kings. Could there be more to come?