LeBron James thinks it's time to expand the All-Star rosters
LeBron James wants more All-Star spots to prevent snubs.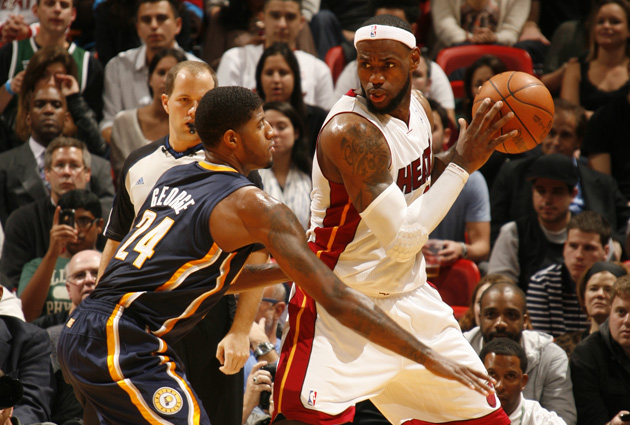 James congratulated George on his All-Star selection Thursday.
(Getty Images)
After being selected to his ninth consecutive All-Star game, reigning MVP and Finals MVP LeBron James knows a little bit about the process. While he's never had to sweat a snub, James is apparently sympathetic to the cause.
James took to Twitter on Thursday night to congratulate various players, including good friend Kyrie Irving (yes, they're buds, and Irving plays for the Cavs) and Indiana's Paul George. But James also has sympathy for the snubs, most notably Golden State's Stephen Curry, whose exclusion was particularly egregious.
Always believe there should be 15 on both rosters so there's no snubs. #East- B.Jennings, J Smooth, PP #West- S.Curry, J.Crawford, M.Gasol

— LeBron James (@KingJames) January 25, 2013


His inclusion of perceived rivals is interesting, and his selections are pretty smart, outside of Paul Pierce. Brandon Jennings might be objectionable, but in reality he's been the best player on a very good Bucks team.
More importantly, this is another sign of what differentiates LeBron. As much negativity as he has garnered in his career, particularly with The Decision, he might be the most positive icon in terms of outlook of any player since Magic Johnson. He's constantly congratulating fellow players, he's known to be a warm and fuzzy guy, sometimes too much. 
But does he have a point? It's pretty difficult to rationalize leaving Brook Lopez and Curry off for Dwight Howard and Chris Bosh or Kevin Garnett. The standard NBA roster is 15 players, why not forget the inactives and make some more room? Or better yet, make it a vote threshold and allow however many players cross a certain vote threshold from the coaches or fans, with a higher limit?
What's the problem with more All-Stars as long as they're worthy?
HT: SLAM Online
Stephen Curry, who grew up in North Carolina, wants to be part of the next Panthers ownership...

Vince Carter is destined for a Raptors reunion; he doesn't know when it'll happen

Thomas has a target date for his return, and with the Cavaliers scorching, this could be h...
LeBron James once again is using his platform to be socially active

Not many games, but still plenty of action and intrigue Sunday in the Association

Kobe Bryant had a solid piece of advice for back in 2016 when he left OKC for Golden State