LeBron James to Derrick Rose: 'You're going to come back even stronger'
Cavs superstar LeBron James expressed his support for Derrick Rose and told him to keep his head up.
• 2 min read
The NBA is reeling after Tuesday's announcement that Chicago Bulls guard Derrick Rose needs yet another surgery. Cleveland Cavaliers superstar LeBron James is one of many players who expressed support for Rose after hearing the news, and he elaborated on his tweet with a video for Bleacher Report.
"Last night after our game, after a huge win, we got some news that Derrick Rose was having surgery again on a torn meniscus," James says in the video. "It was terrible news to get, man. I could never know what he's going through mentally or try to put my feet in his shoes and tell him, 'Listen, I know exactly what you're going through' because I don't. I've never been in this situation before."
James has never dealt with a serious injury, though he has missed time this season because of ankle, knee and back issues. Few players have gone through what Rose has in the past three years -- injury after injury, setback after setback, surgery after surgery. Nothing about it is fair.
In the video, the Cavs superstar has some words for Rose: "One thing I can tell him, man: Just keep your head-up, D-Rose. Man, keep your head to the skies. Lean on your loved ones. Vent to your loved ones. And you will make it through this, man, and you're going to come back even stronger. I believe that. I see so much determination in your eyes and in your play and I don't have a brotherhood relationship with you, G, but our NBA, our league is a brotherhood. And we all want you, and I know I want you to come back stronger, man, because I wish this on no one.
"So it's tough, man," James continues, still addressing his fellow former MVP. "It's tough to just even talk about it, knowing how much you love the game, knowing I can relate to you in this factor: knowing how much pressure it is to play for your home city and want to do great things for them be there for 'em every night. And trying to balance that, the game of basketball with the off-the-court things as well. But I support you, G. If you ever need some advice, if you ever want to reach out to me, it ain't hard to find me. Best of luck to you, man. Prayers up to you, dog, and come back stronger."
These sentiments are shared, surely, by just about any player who has heard stories or seen first-hand how much Rose cares about the game, how seriously he's taken his rehab, how badly he wants to be the best player he can be. It means something, though, for the best player in the world to say it, and to do so publicly.
Rose sadly has yet another uphill climb ahead of him now, though the Bulls hope the recovery timetable is shorter than the last time he had a meniscus tear. The road back can be lonely, but he does have plenty of people in his corner.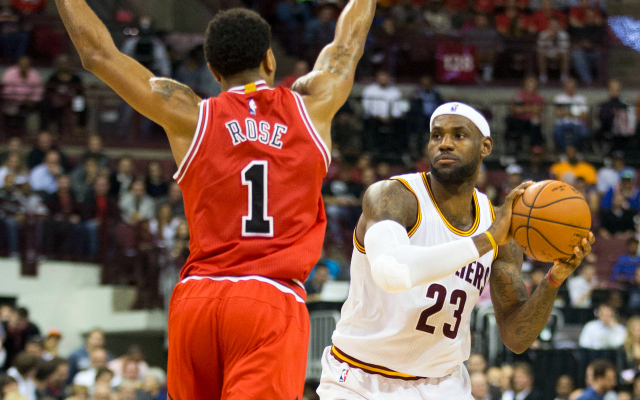 CBS Sports HQ Newsletter
We bring sports news that matters to your inbox, to help you stay informed and get a winning edge.
Please check the opt-in box to acknowledge that you would like to subscribe.
Thanks for signing up!
Keep an eye on your inbox for the latest sports news.
Sorry!
There was an error processing your subscription.
A rundown of what to know about how the NBA Draft is affected by moving to October

And don't think we forgot about Stephen Curry's off-the-dribble prowess

The biggest winner of the NBA's return to Disney is a team that won't even be playing there
The risk of COVID-19 is much greater for those over 65 years old

Durant just made his first foray into team ownership

The league proposed starting the 2020-21 season on Dec. 1, less than two months after the 2020...
Our experts held their first NBA Mock Draft of 2020 on CBS Sports HQ

Conley's indoor gym may have actually been the MVP of the tournament