LeBron James tops NBA jersey sales list for sixth time, Durant 2nd
LeBron James once again is the most popular jersey in the NBA and once again, Kevin Durant comes in second.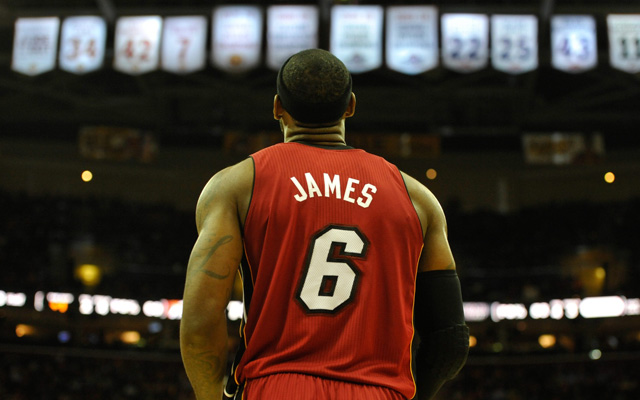 More NBA: Season Awards | Grades: East | Grades: West | Seasons in Review
The NBA announced the most popular jerseys in sales for the 2013-2014 season, and the reigning MVP LeBron James remains on top with the presumptive 2014 MVP Kevin Durant just behind him. It is James' sixth time at the top of the list, which he has ruled since winning his second title in 2012. 
The list: 
2. Kevin Durant, Oklahoma City Thunder
3. Kobe Bryant, Los Angeles Lakers
4. Derrick Rose, Chicago Bulls
5. Stephen Curry, Golden State Warriors
6. Carmelo Anthony, New York Knicks
7. Dwyane Wade, Miami Heat
8 Chris Paul, Los Angeles Clippers
9. Kyrie Irving, Cleveland Cavaliers
10. James Harden, Houston Rockets
11. Blake Griffin, Los Angeles Clippers
12. Russell Westbrook, Oklahoma City Thunder
13. Rajon Rondo, Boston Celtics
14. Tim Duncan, San Antonio Spurs
15. Paul George, Indiana Pacers
James leading isn't a surprise, nor is Durant right behind him. But it's impressive that Bryant managed the third spot at his age while only playing six games. It speaks to his legacy and the popularity of the Lakers. It makes you wonder how popular he'll be after he retires. 
Derrick Rose also appears despite missing most of the season for a second year in a row with a knee injury. 
This is, unbelievably, Tim Duncan's first appearance since 2007. Steph Curry is the cool new kid, headed up the ranks, while Blake Griffin apparently is no longer capturing the imagination of fans despite his improved play and omnipresence on commercial airwaves. The Pacers and Spurs won 117 games combined and have two dudes on the list, but whatever. 
Kyrie Irving remains fascinatingly popular despite the struggles in Cleveland. 
Here are the top ten teams in jersey sales: 
1. Miami Heat
2. Los Angeles Lakers
3. Chicago Bulls
4. Oklahoma City Thunder
5. New York Knicks
6. Boston Celtics
8. Golden State Warriors
9. San Antonio Spurs
10. Los Angeles Clippers
How about the Nets on the list despite not having a top fifteen guy on the list. Also, hey, good news for the Knicks! Still making money, no matter the failures! 
I really wish the NBA would release the numbers on sleeved jerseys. That would be fascinating to see. 
The investigation detailed a hostile workplace environment

Cousins suffered a torn Achilles tendon on Jan. 26, and will miss the rest of the season

Ingram has become one of the team's go-to players with Lonzo Ball sidelined with an injury
Giannis skipped EuroBasket last summer, and has missed four games this season with knee so...

Some of the best and worst from the league as we head into the home stretch of the season

Cuban acknowledged that tanking is 'brutal' and that he will no longer do that after this...