LeBron James tweeted something and it's either a big deal or it's not
Was the Cavs star calling out teammates? Just commenting on a good friend? Messing with people? What's the answer? It, like most things, is unknowable.
LeBron James is in Miami this week, taking a mini-vacation while the Cavaliers have a few days off with no games or practice, working out with Dwyane Wade. It's not exactly commonplace for an NBA star to be hanging out midseason in another city, with another team's star, especially another playoff team that his squad could see in the spring. But James loves Miami, and it's not like he's going to tweet out something cryptic and conspicuous while he's down there. 
Oh, wait. 
Can't replace being around great friends that reciprocate the same energy back to you in all facets of life

— LeBron James (@KingJames) March 3, 2016
Here's the thing. If James hadn't tweeted out stuff in the past about teammates (like the "fitting in vs. fitting out" stuff with Kevin Love), this wouldn't be notable. He's friends with Wade, he likes hanging out with him, the end. The same could be said if there were no issues with the Cavs. This would just drift into the Internet ether for the most part.
But James has tweeted out passive-aggressive stuff in the past, there is a history of problems with the Cavs, as recently as last week, and there is, of course, the constant questions about a. how much power James wields in Cleveland and b. his impending free agency (again) this summer. There are also these tweets he dished on Tuesday: 
It's ok to know you've made a mistake. Cause we all do at times. Just be ready to live with whatever that comes with it and be with.....

— LeBron James (@KingJames) March 1, 2016
those who will protect you at all cost!

— LeBron James (@KingJames) March 1, 2016
As Ethan Skolnick describes in the video above, this doesn't mean in any way that James is headed back to Miami. But it does read like a shot at his Cleveland teammates. If nothing else, consider this: James is fully aware of the impact of what he does. He knows if he tweets something like this, it comes off as a comparison. Maybe he doesn't mean it that way and he doesn't care. That's 100 percent possible. 
It does seem notable, however, if for no other reason than as a great example of what James misses in Miami, and why that situation was so good for him. The Cavs are the No. 1 team in the East, and some feel that they're even more talented than that Heat team. Yet it's not hard to feel that from a work perspective, James misses South Beach, and not just for the weather. 
On the other hand ...
What if none of this stuff is related to the Cavs? What if his tweet about being around friends wasn't even about Wade but his trainer in Miami or business associates? What if his comments on Tuesday were about a personal matter and he was just venting the way, you know, 95 percent of the human populace uses social media for? What if this has no real meaning, the same way that LeBron's Christmas Day conversation last year meant nothing?
You can't say that James tweeting that out, contextually, is not newsworthy. Well, you can, but you'd be wrong and ignoring a great deal of evidence. You just also can't really put meaning to it, because there's too much we don't know. It'll either wind up being something we look back on and point to, for whatever reason ... or it'll drift into the digital void like most tweets. It's part of the picture, but a part of the picture on its own is just a few pixels.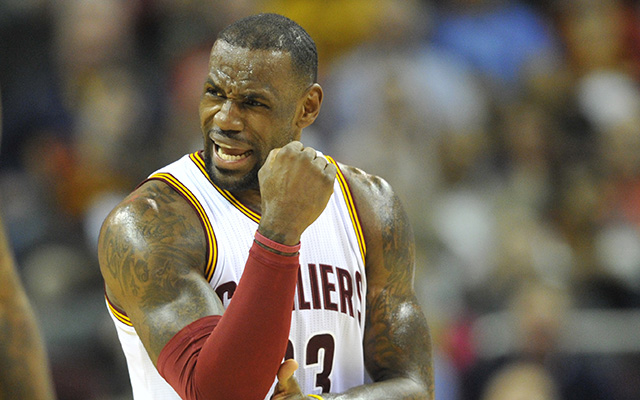 There was some explosive guard play this week in the NBA's rookie class

With half of the season in the books, there were some clear favorites for our Midseason Aw...

Zack Cimini is 12-3 on picks for or against the Pistons ATS and locked in a play for Frida...
Both Washington and Detroit will try to snap losing streaks Friday night

The Hornets are reportedly looking to move their franchise point guard

We've got all the scores, highlights and news for Thursday night